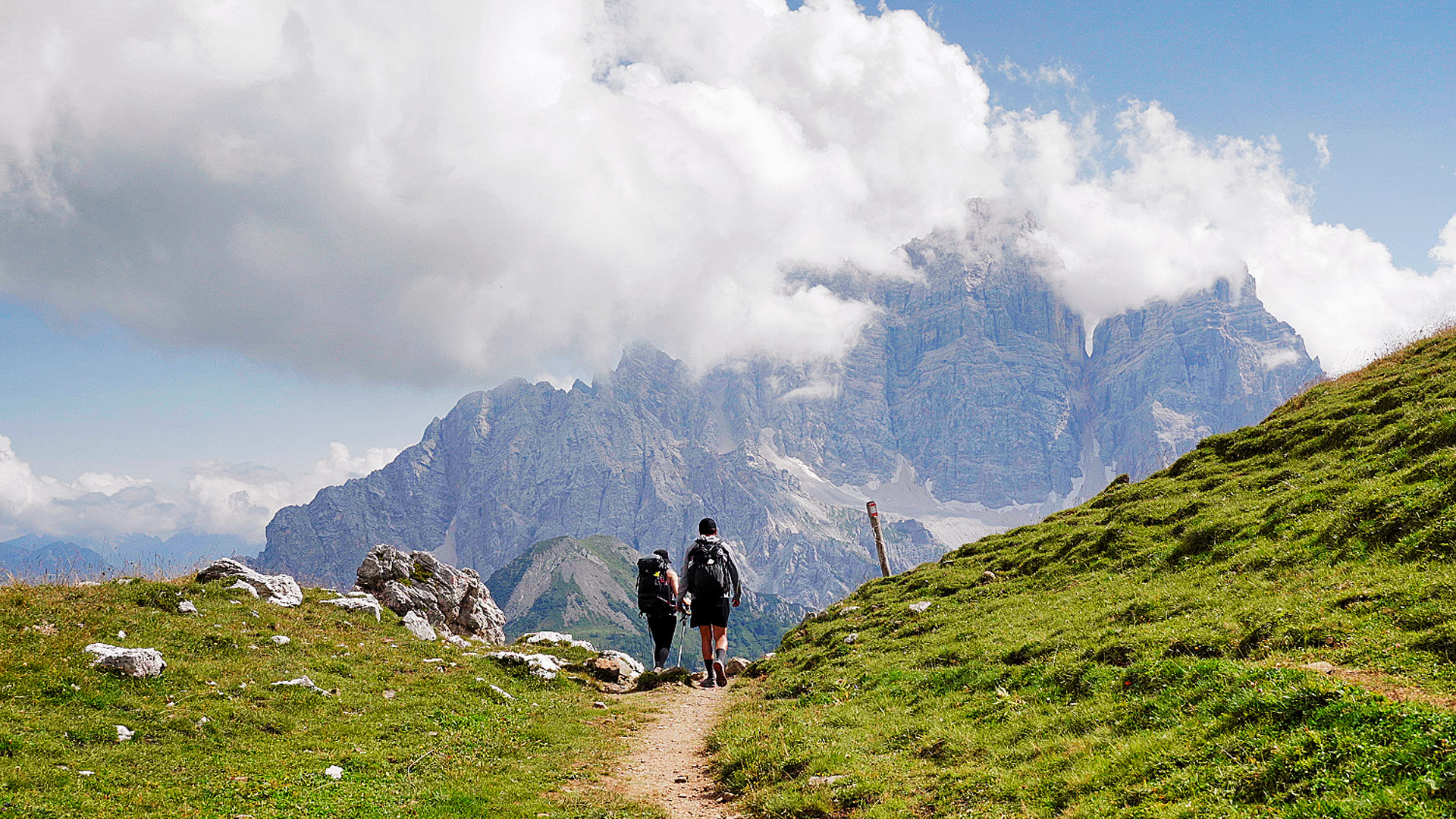 26 Apr

How to Hike the Alta Via 1

Alta Via 1 is a 148-kilometer (92 miles) long high route that runs through the eastern parts of the Italian Dolomites. The trail takes you from the picturesque lake known as Lago di Braies, passing through several scenic mountain passes and memorable landscapes until you reach Belluno, a small Italian town.

The Alta Via 1 is considered the classic high route and the most popular of the several long-distance trails in the Dolomites region. Alternatively, the parallel running Alta Via 2 is often regarded to be a bit more difficult as it involves traversing certain parts of the route via Ferrata. Nevertheless, most people start with the Alta Via 1 before attempting the more difficult trails.  

A typical day on the trail involves around 7-8 hours of walking consisting of ascents and descents throughout the next day. It gets slightly more difficult the further south you get and trail conditions are less maintained compared to the northern parts of the trail.  The Alta Via 1 is usually completed in around 8-10 days depending on your hiking level. It's also worth mentioning that most hikers stop at the La Pisa Bus stop instead of hiking the final stretch to Belluno, which is generally regarded as less scenic and not worth completing. 

The best time to do the hike is during the summer months between Mid-June to Late-September before the operated cable cars are closed down. Since summer is the operating season for most activities in the Dolomites, you should expect crowds on the trails. The month to avoid is generally August as that's the month where most Europeans have their holidays. 

While it's certainly possible to do this hike during the colder months or even in winter. Generally, this requires proper mountaineering equipment as the route is most likely covered in snow and ice. Furthermore, since it's technically forbidden to wild camp anywhere in the Dolomites, your only option is to stay at a Mountain Rifugio and most of them are likely closed by the beginning of October. With that said, I still saw a decent amount of wild campers while being on the trail so if you do go down that route then always practice the Leave-No-Trace principles.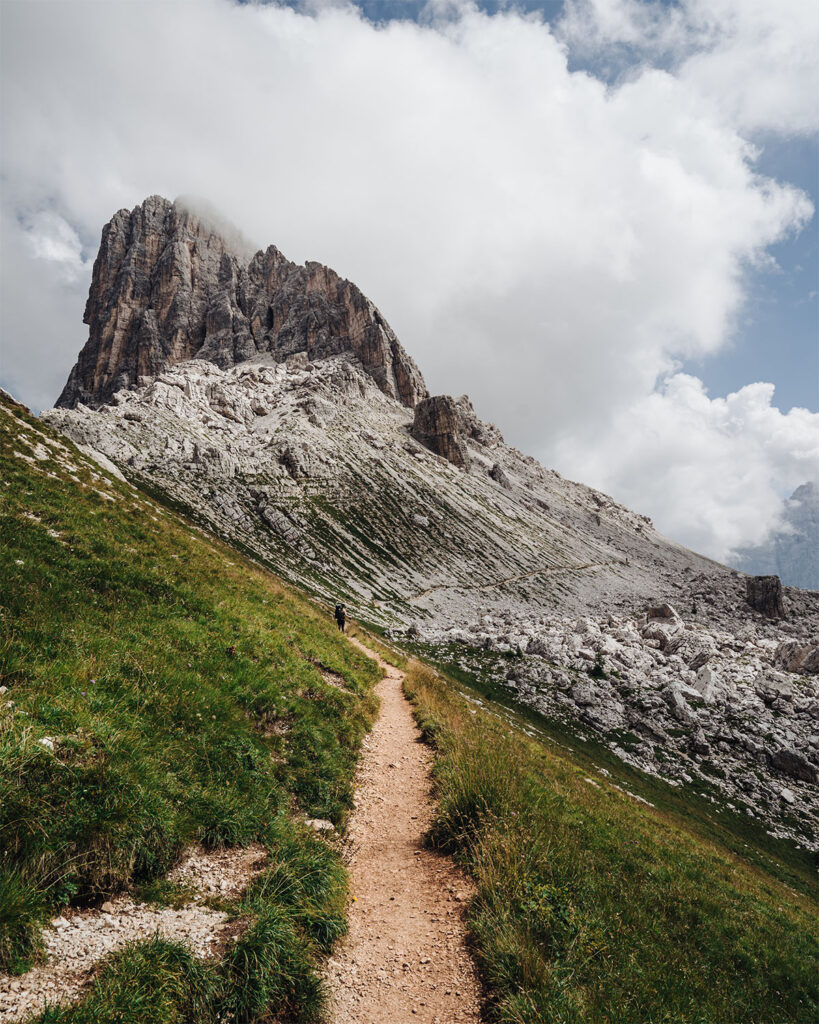 The official trailhead of the Alta Via 1 is at the beautiful Lago di Braies aka. Pragser Wildsee.  There are several ways to reach the lake, some more expensive and easier than others. But first, you need to get to Italy.
You can either fly into Italy or drive in from neighboring countries such as Austria via Innsbruck. Since I live in Denmark flying was the only viable option for me.
There are four international airports that are reasonably close to the Dolomites:
Bergamo Airport
Verona Airport
Treviso Airport
Venice – Marco Polo Airport
I would choose one depending on which low-fare airlines you prefer.  If that isn't a concern then the closest ones are Treviso and Venice – Marco Polo airport.  For my trip, the best option was flying into Venice, so the rest of this section will explain how to get to the trail from there.
So if you decided to fly into Venice as I did. You will have two options to reach the trailhead. 
The first option is to book a car/taxi transfer from the airport to Lago di Braies. This approximately 194km car ride is the most straightforward way to reach the trailhead. However, as you can probably guess also the most expensive. From my own research and reaching out to several taxi transfer companies the price was around 340€ euros for the transfer.
The second option is taking a bus from the airport to Cortina d'ampezzo, then a bus transfer to Dobbiaco/Toblach, and finally another bus transfer to Lago di Braies. ATVO and Cortina Express are the two bus services that operate between the airport and Cortina d'ampezzo. The price for a one-way trip is around 20€ euros. Once you reach Cortina, you can take the SAD bus 445 towards Dobbiaco and then bus 442 to Lago di Braies. The price for a bus ticket is around 5€ euros. This is probably the most affordable way to get to the trailhead.  
Gear List for the Alta Via 1
Since we were staying at Rifugios there was no need to bring a tent or much of any sleeping equipment. But if you're staying in dormitory-style rooms then the usual sleeping liner or sleeping bag is required. All in all, this meant a reduction in overall backpack load compared to my usual trips. You could technically get away with a day pack on this hike, or simply transfer your backpack to the next rifugio via the baggage transfer service provided by the Rifugios. The following gear list is adapted to this specific trip. You can find an updated and complete gear list for any other trips by clicking the "GEAR" tab on the menu above.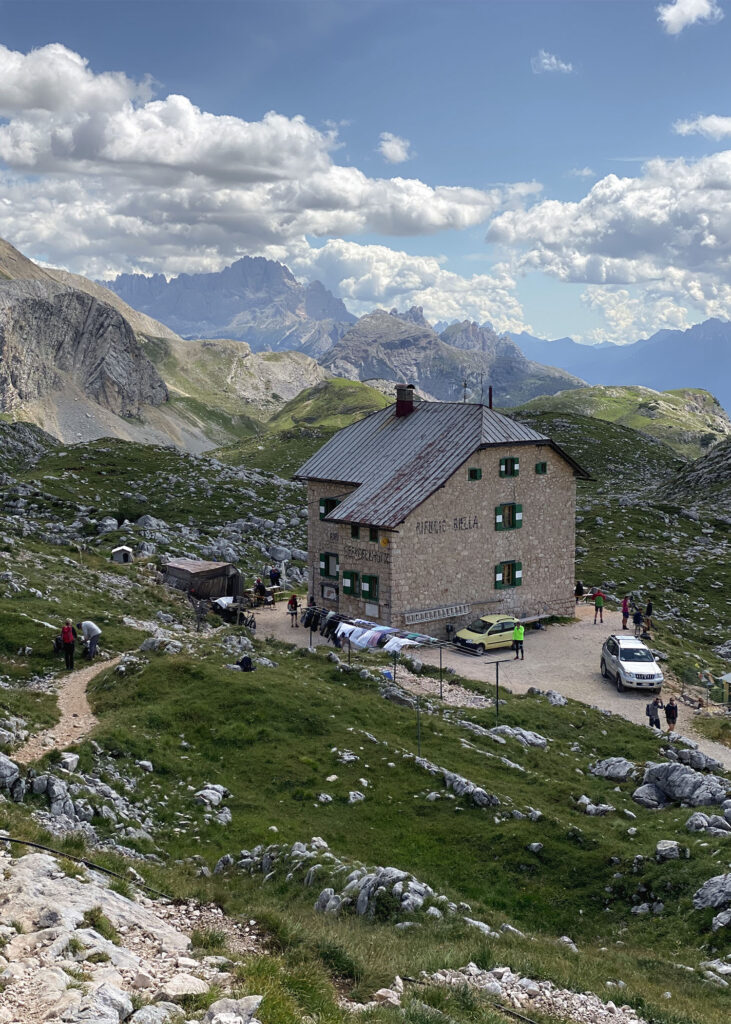 Since wild camping isn't allowed. The only option for staying overnight in the Dolomites is at the many mountain refuges spread across the region. The only downside to this is they don't exactly come cheap for the budget conscience hiker. Nevertheless, most refuges offer two types of accommodations.
The first type of lodging is usually a private room. The only downside here is that if you're traveling alone and the room is a two-persons room (which is pretty often the case), you will still need to pay for the unused empty bed adding up the cost. 
The second way to lodge is in dormitory styled rooms, meaning you will be sleeping with other hikers in the same room. The rooms can have anything from 4-8 beds. However, with this option, you will only pay for the bed that you use. 
Regardless of what type of lodging you choose, they usually both either come with the option of breakfast or half board (some rifugios even require it). As such, prices per person can vary anywhere from  45-80€ euros depending on the Rifugio. 
It's also super important to book your accommodations months in advance, especially if you want to stay at some of the more popular rifugios. I would say you want to be booking at least 6 months in advance to be on the safe side – the earlier the better. 
DAY 01 - Lago di braies to Rifugio fodara - 16.5 km
We traveled to Italy at the end of August 2020. A unique time as this was during the COVID pandemic. As mentioned earlier, August is generally a busy month in the Dolomites. But during our visit, the crowds weren't that bad which was most likely due to the pandemic. Despite everything happening around the world, Italy opened up briefly and we decided to jump at the chance to do the hike. In our minds, you couldn't be more socially distanced than on a hike.
We decided to stay a night at the beautiful Hotel Lago di Braies. We booked a small room for two and it came with a little glimpse of the well-known lake. It's in no way a budget-friendly hotel, but we wanted to stay close to the trailhead and have some time to explore the lake and the surrounding area.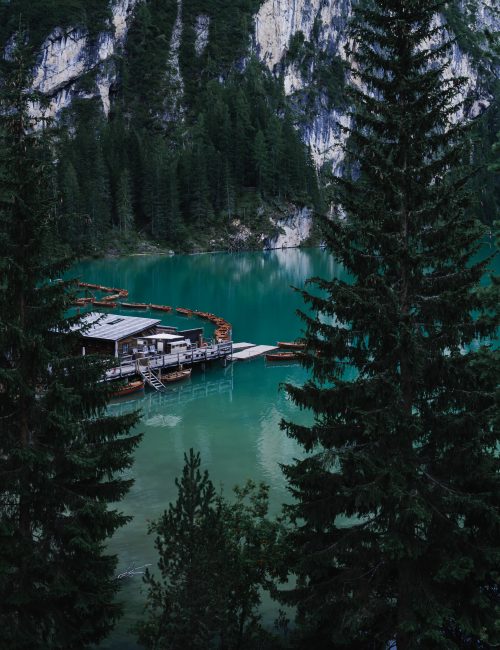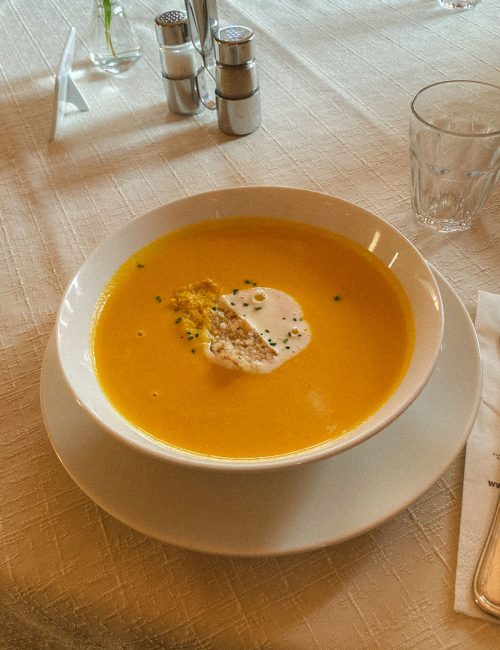 Our hike started the next morning after a hearty breakfast at the hotel. We needed every bit of that breakfast since the day was going to be rather tough,  We needed to climb all the way to Rifugio Biella with a total elevation gain of 1011m (AllTrails data). This was going to be the toughest ascent of the entire hike. Which was a good thing as I rather prefer tackling tough ascents at the beginning of a hike compared to later, when one's legs are weary from endless days of walking.
After reaching Rifugio Biella, we decided to grab some lunch which helped fuel us for the remaining journey to Rifugio Fodara, the rifugio we would be staying for the night. The route to Fodara was relatively flat and easy compared to the steep climb to Biella. 
We arrived at Fodara right before dinner. After dropping off our backpack in our quaint little room, we immediately headed down to the dining area of the Rifugio. Even though I've heard great things about the food on the Alta via 1 – I was still skeptical. That skepticism seemed rather misplaced as I proceeded to devour the three-course dinner placed before me in record time.  I guess everything tastes great after a long day of walking. 
Once our bellies were full, we headed back up to our room. We scrubbed ourselves clean with the wonders of soap and warm water then subsequently passed out in our bed to the sound of cowbells ringing throughout the night.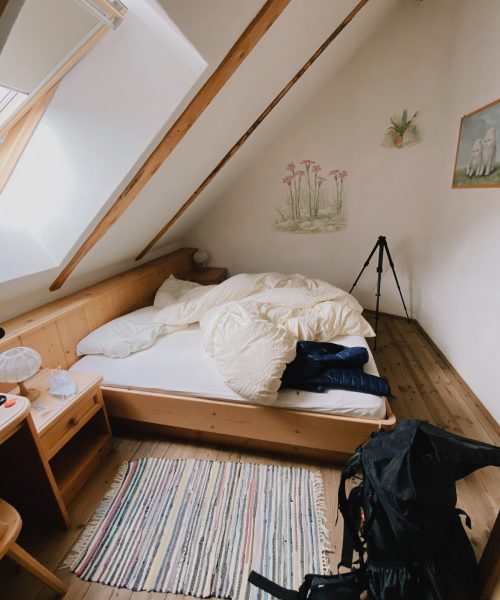 DAY 02 - Rifugio fodara to Rifugio Scotoni - 24.8 km
This was probably the toughest day of our entire trip and it was totally self-inflicted.  The route itself wasn't more difficult than other stages of the hike. But because we ended up deviating from our planned route. What seemed to be an "easier" route ended up adding an additional ankle-wrecking descent along with a soul-destroying ascent to an already long day of walking.  I still scratch my head over this newbie error and implore you to not make the same mistake. Just stick to the plan.
The day started as well as one could expect.  Waking up reenergized from a good night's sleep and another hearty breakfast, we blasted through the initial parts of the trail to Rifugio Pederu.  We then faced a mild ascent until hitting flatter plains again towards Rifugio Fanes. We grabbed a little lunch at the aforementioned Rifugio and then continued towards our end destination Rifugio Scotoni. Originally, we wanted to stay at the well-known Rifugio Lagazuoi but the place was completely booked by the time I bought the airline tickets. So the next best thing was Scotoni.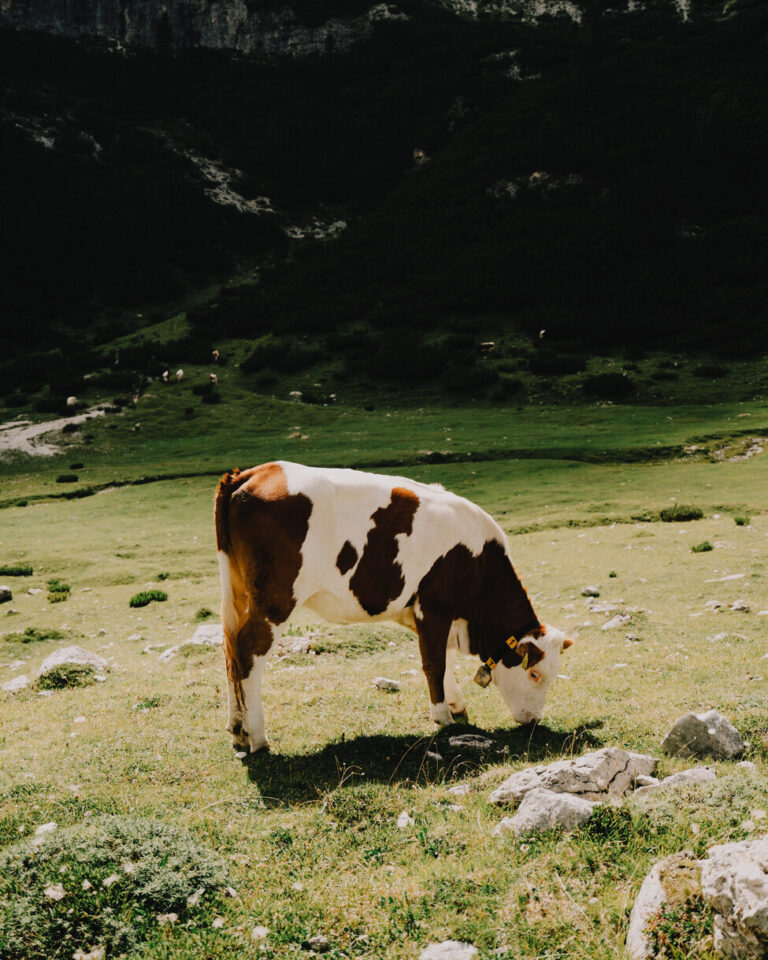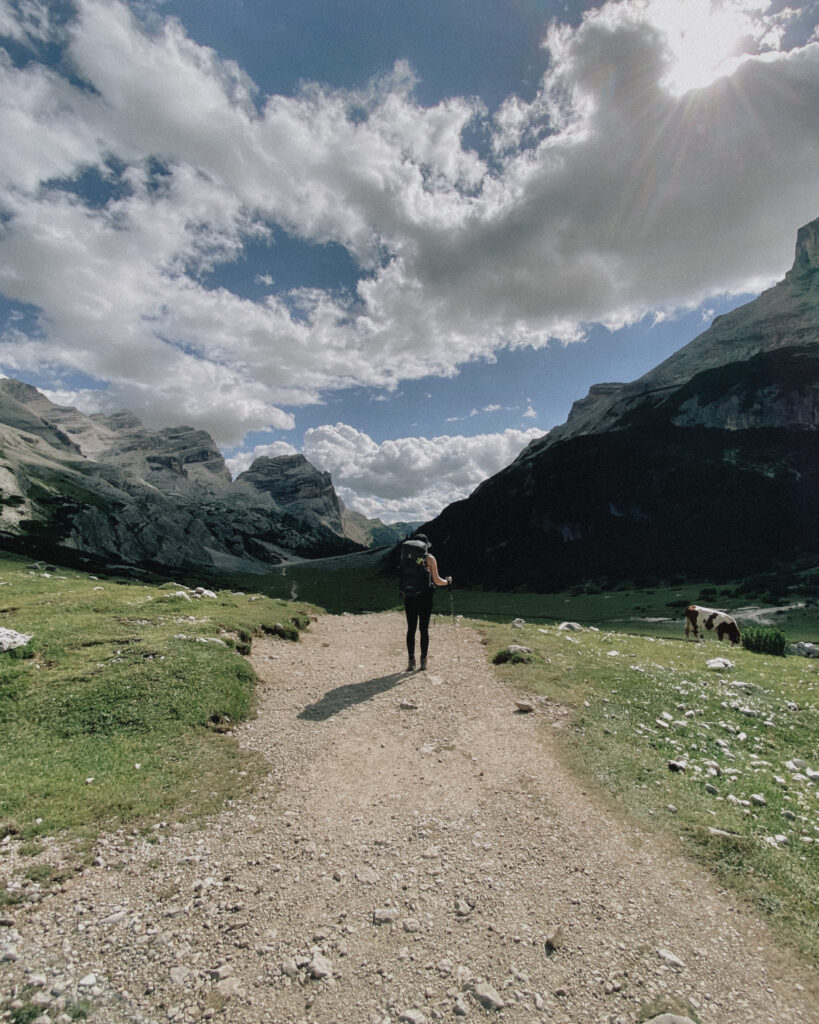 Once we reached a picturesque valley, our trail started to follow along a steep path towards nearby mountains. We noticed that a lot of hikers continued along another path which to our eyes seemed a lot easier. Without thinking things through, we decided to take this seemingly easier route. As you already know by now this wasn't the case at all.
We arrived exhausted at Rifugio Scotoni. Still frustrated with ourselves, we drowned our frustrations away with a couple of beers and warm food. Despite our frustrations, we knew tomorrow was yet another day of hiking.
DAY 03 - Rifugio SCOTONI to Rifugio SCOIATOLLI - 15.4 km
We woke up to heavy mist lying across the surrounding area and almost covering the nearby peaks.  It was a chilly morning which would soon warm come midday. 
As we climbed the first section towards Rifugio Lagazuoi, we came across the well-known Lagazuoi lake. We spent a few moments enjoying the crystal-like waters and looked up towards a trail leading over a steep mountain pass. I recognized this was the path we missed out on and vowed we would stick to the planned route for the rest of the journey – no matter what.
We continued on the trail and met a pretty busy patch near Rifugio Lagazuoi. As we navigated through the many connecting trails we soon began a moderate descent towards a valley. On top of the valley, I could spot the famous Cinque Terre where our Rifugio was located. 
As we reached the valley ground, we had a choice to make. We could either jump on the cable car that would take us up to the Cinque Terre in a matter of minutes, or we could do the challenging climb ourselves through a connected forest trail. We opted to do the climb ourselves. 
In hindsight, I would recommend just taking the cable car as I didn't feel as we missed out on much.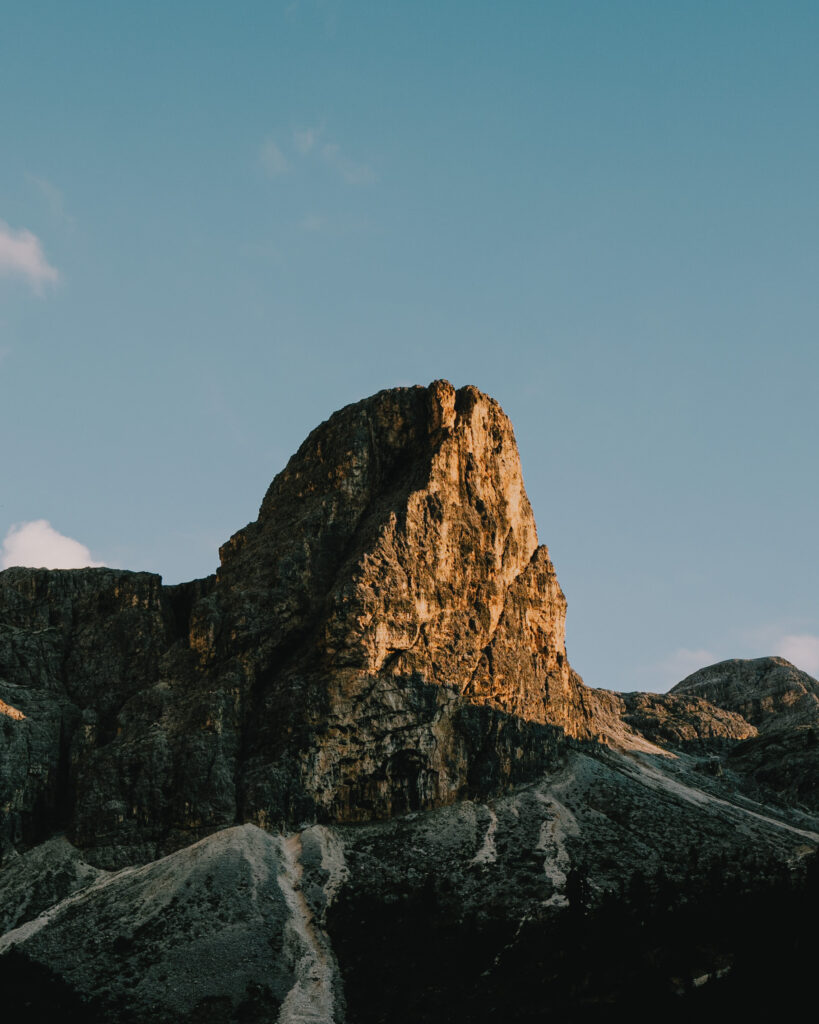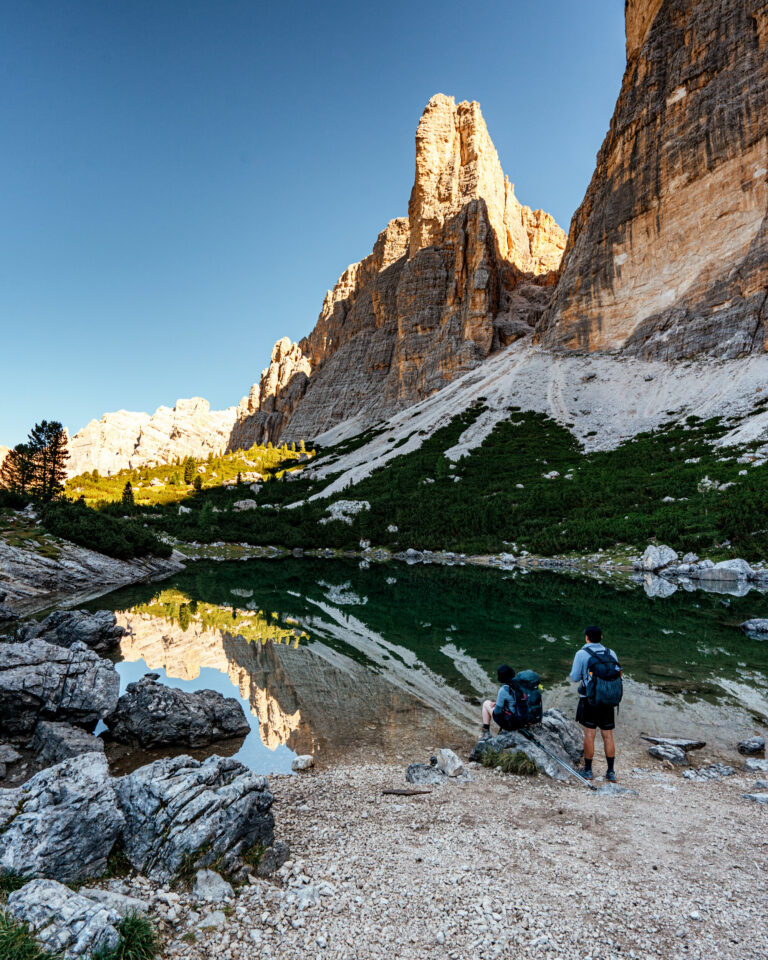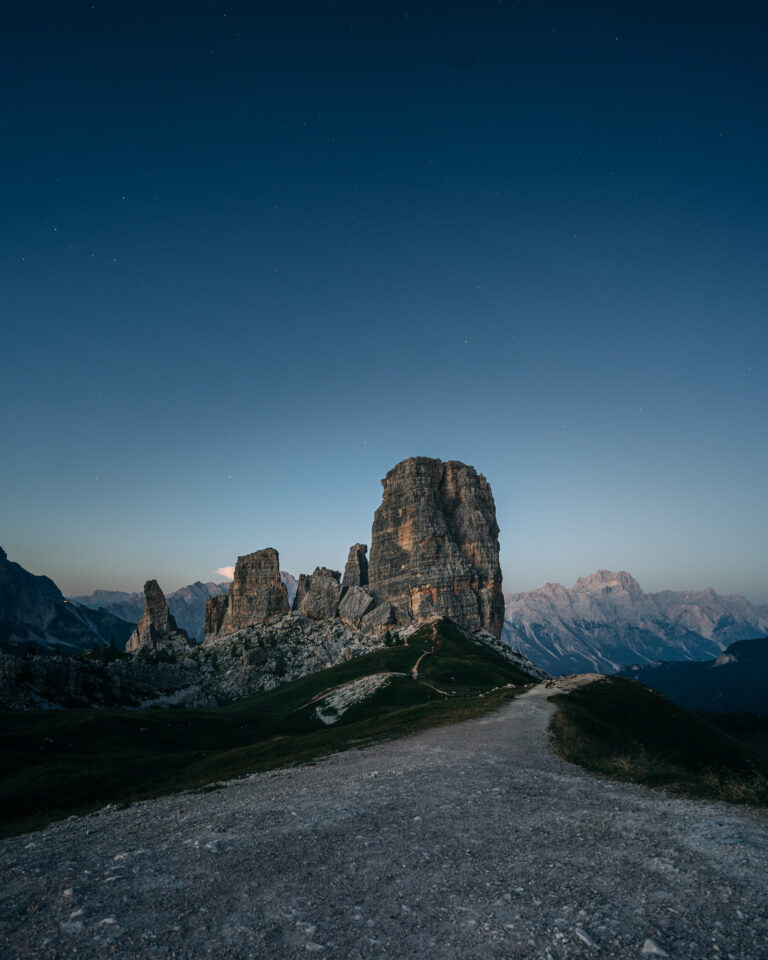 DAY 04 - Rifugio SCOIATOLLI to Passo Staulanza - 21.7 km
By day four. my body was starting to get used to the ups and downs of the hike. 
There wasn't anything super noteworthy during this stretch other than Croda da lago. We stopped here for lunch and to my surprise, there were a lot of day hikers near the lake. This made me especially eager to get going as soon as possible.
The weather started to turn bad during the last stretch. Finally, we were going to experience the well-known afternoon storms of the dolomites. As we started to hear storm rumbles getting closer and closer, we decided to pick up our pace and arrived at our rifugio right before a heavy downpour. We ended staying at Passo Staulanza – a rifugio placed right next to a trafficked road. Not the most picturesque settings of our trip, but I was just happy we didn't get caught out in the storm.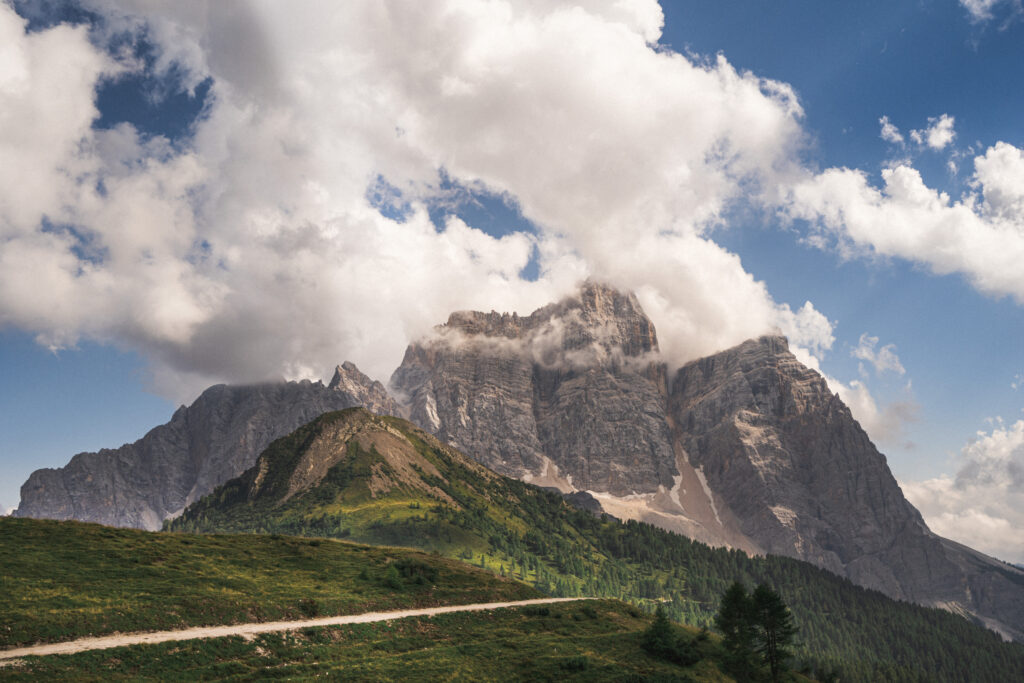 DAY 05 - Passo Staulanza to Rifugio Vazzoler - 22.6 km
The route to Rifugio Vazzoler was a blend of mostly wooded areas with the occasional exposed ridge walk. The only real climb on the route would take us up to Rifugio Coldai one of the more picturesque locations for a rifugio on the trail.  
After reaching the highest point of the day it was a pretty straightforward path to Vazzoler. One hightlight was this amazing walk along the side of a mountain. It gave me a Lord of the Rings vibe to it – with it's tall impossing nature and dark foreboding clouds surrounding its peak. As we got gloser to Vazzoler, we end up getting caught out in an afternoon storm. Luckily, it was more rain than storm.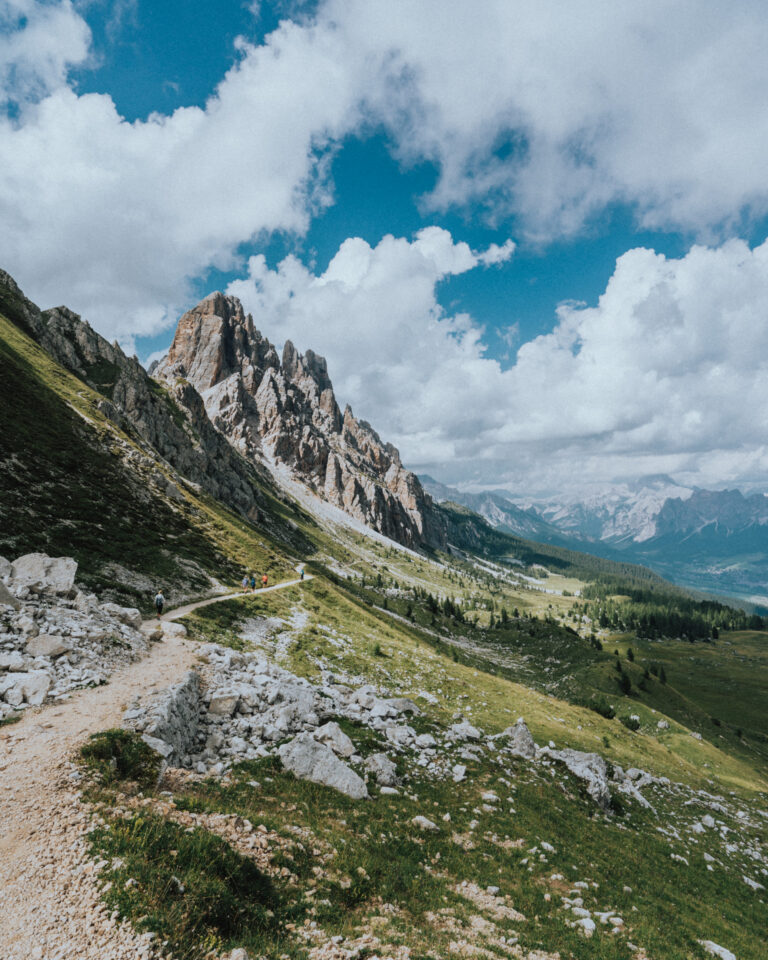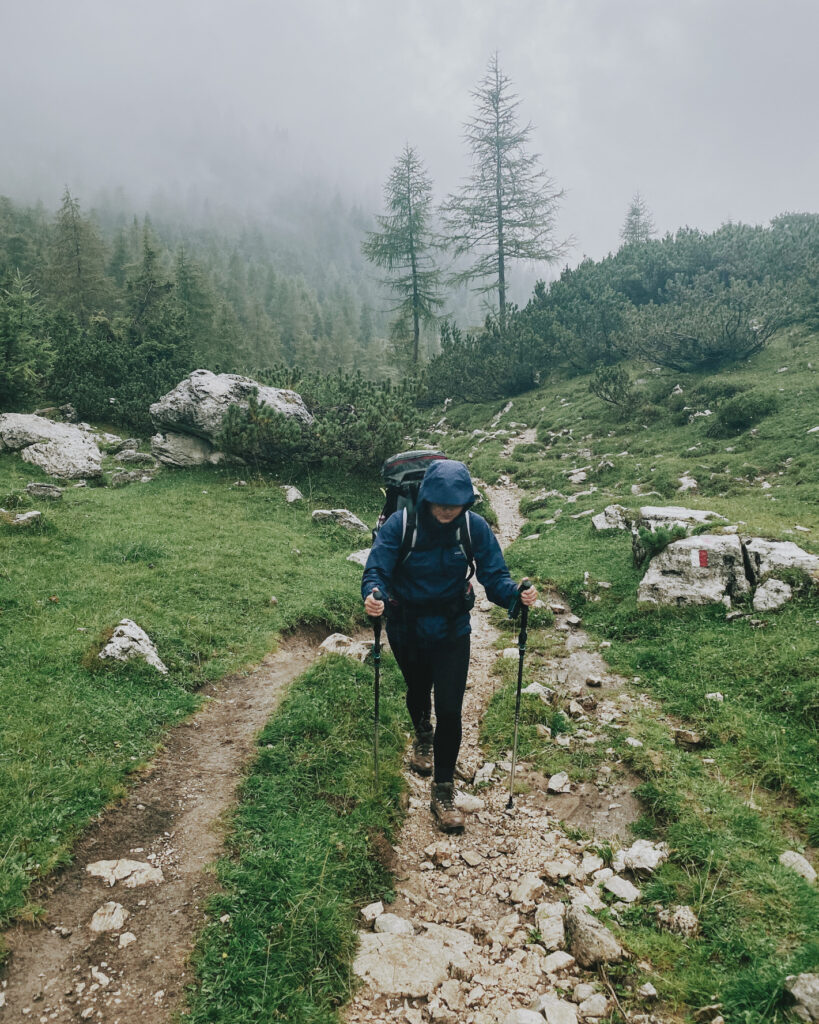 DAY 06 - Rifugio Vazzoler to Rifugio San Sebastiano - 13.6 km
This was an easy and short day comparatively speaking. By day 6 we were getting used to the daily repetition of early morning ascents met with afternoon descents to our next Rifugio.
While the day's route was relatively short, I did expect a bit more in terms of scenery. Up to this point, the AV1 has spoiled us with its beauty and dramatic mountains. However, today was what one would call a bit of an off-day. Furthermore, I didn't have the highest expectations for Rifugio San Sebastiano. The website was rather out of date and the information was appropriately sparse. The booking process was also rather peculiar as I remember finding it unnecessarily difficult. Maybe I'm just used to the easy process of booking hotel rooms through modern online platforms.
But fortunately, I was pleasantly surprised by the rifugio. It may have something to do with an upgrade to our room situation which was much appreciated. But the host was also incredibly friendly which was a plus and the few old photos of this place didn't do it any justice.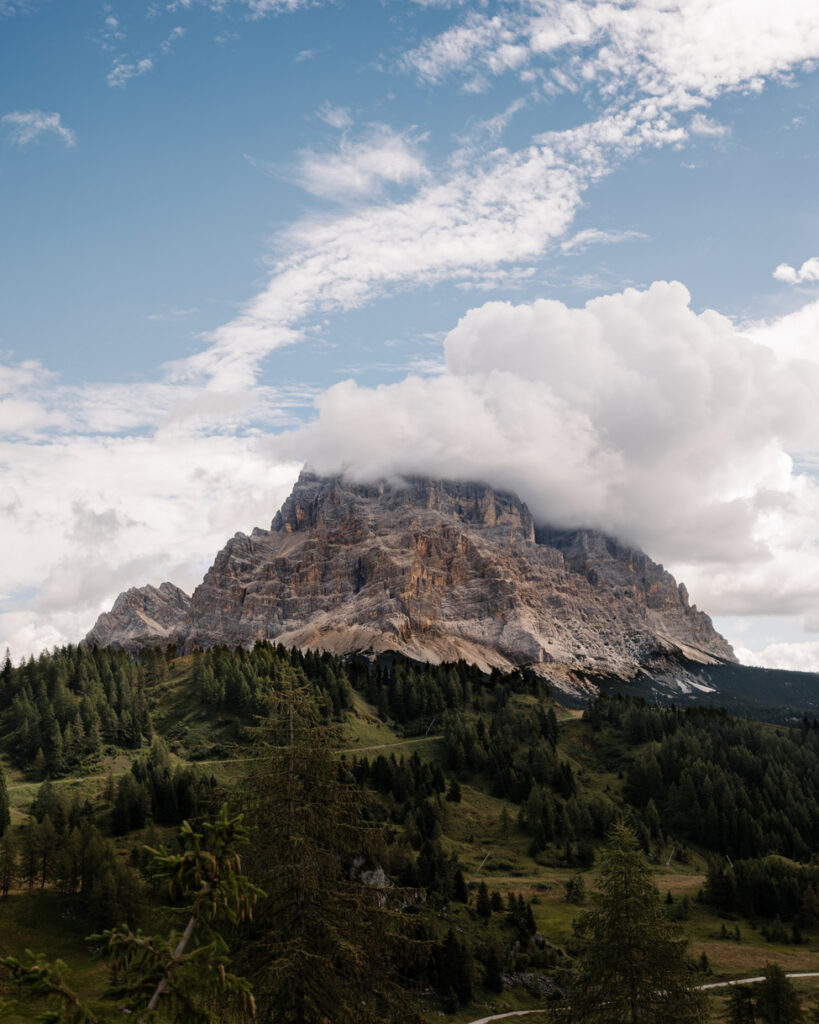 DAY 07 - Rifugio San Sebastiano to Rifugio Sommariva al pramperet 12.5 km
The day started with some uninspiring asphalt walking until we could connect to the trail again. I found that ever since we passed Coldai, the places we passed through became more and more wooded and the trails were getting less and less maintained.  The southern section of the AV1, was mostly a blend of woods, a few exposed ridge walks with some minor rock scrambling. The spectacular views were appearing less and less.
We pressed on for a couple of hours until we reached Rifugio Sommariva Al Pramperet. The location was rather lovely with a nice backdrop of nearby mountains. Unfortunately, I had a rather forgetful experience here. Without going into too many details, I found that the staff seemed rather smug from the onset and there was a mix-up with our accommodation.  Needless to say, our stay was rather uncomfortable and I couldn't wait to get started on the hike again.
You may have a better experience than me, but I would personally avoid this place and just stay at the next rifugio if possible (or wildcamp).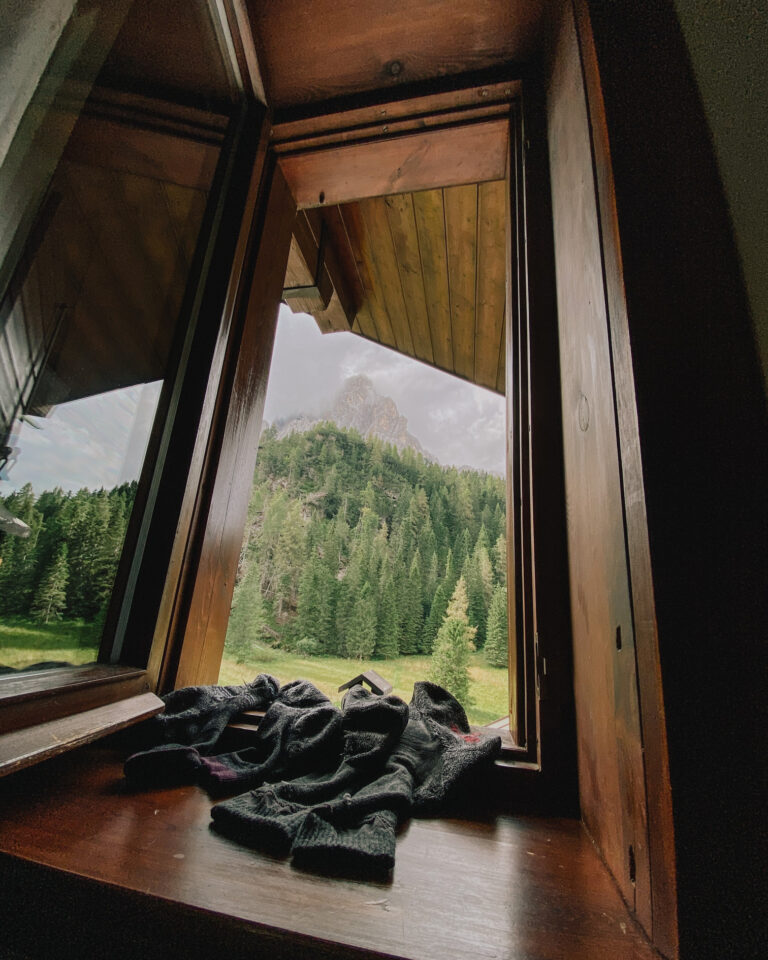 DAY 08 - Rifugio Sommariva al pramperet to La Pisa bus stop 20.7 km
The last stretch of the hike.
While it's possible to walk all the way to Belluno, we've heard that the trail just gets worse from this point forward and the views less impressive. This is why most people end the hike at the La Pisa Bus stop rather than continuing. I hardly slept through the night and just wanted to start the hike asap. We left the rifugio shortly before sunrise and were met by our first steep climb of the day.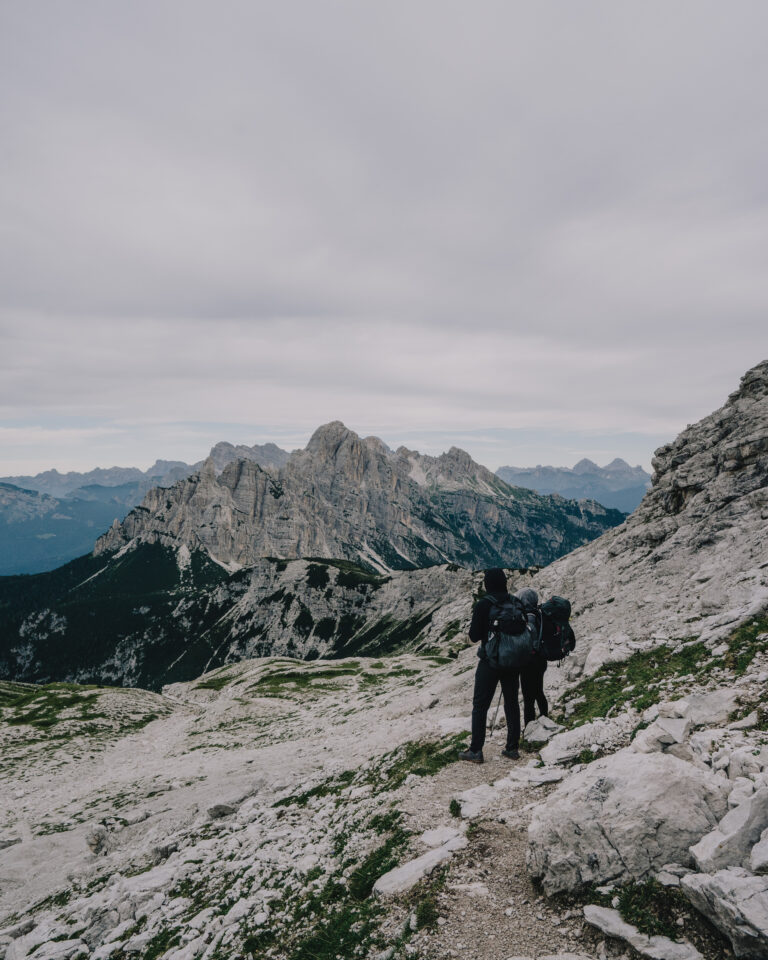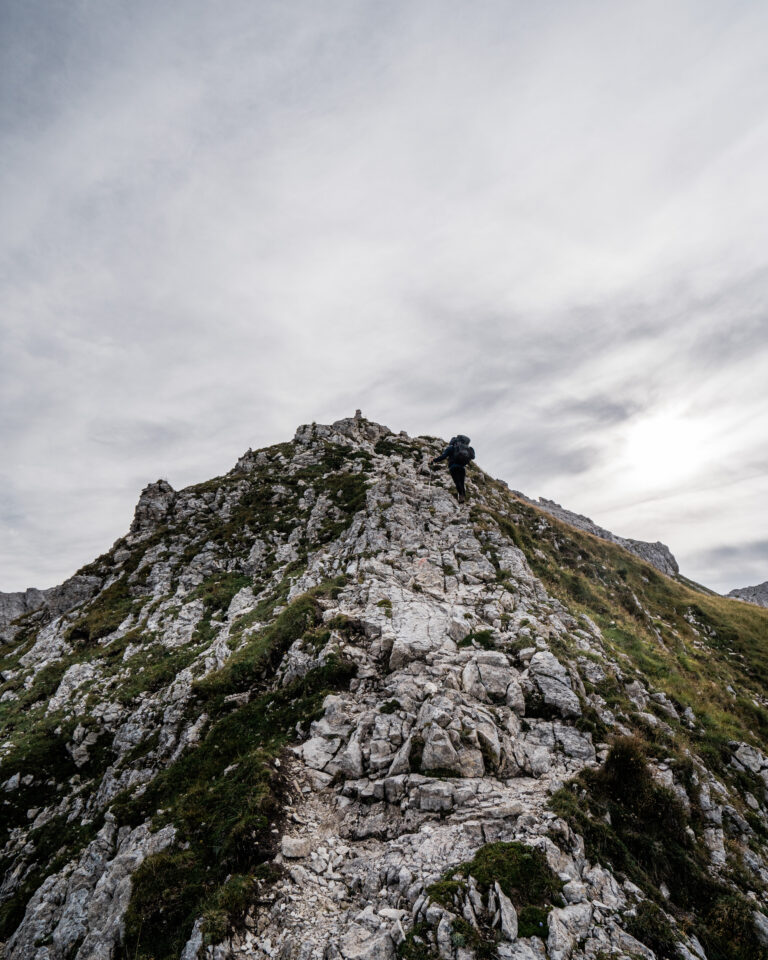 It was a rather hefty climb up – only outmatched by our climb to Rifugio Biella at the beginning of the AV1. As we neared the top we were faced with a rather sketchy pass. One had to be fully concentrated passing through this section since one wrong step could spell the end of this trip.
After managing to survive, we were met with an otherworldly view of distant mountain peaks, submerged in a sea of clouds. We gave ourselves some time to admire the views before pressing on with the hike.
The trail consisted of steep passes and maneuvering through several switchbacks. Everything up until this point was going well. I don't know whether it was the lack of sleep or overall fatigue from this trip, but I somehow lost concentration for a moment, losing balance, and started to plunge down a couple of meters down a rocky slope, breaking one of my trekking poles, and banging up my knee pretty badly. I was lucky it wasn't a steep cliff and that I somehow managed to stop the tumble. It was certainly a scary experience for the both of us. But my thoughts at that very moment were focused on the throbbing pain in my knee and how I could finish this hike with an injured knee.
I decided to pop a couple of Ibuprofens to cope with the pain. We were still a good 3-4 hours away from the bus stop and we had to make the last bus of the day. From this point, all I could do was to focus on walking as best as I could. There was little time or energy for anything else. I had little to no capacity to enjoy the last part of this hike. But I don't think I missed out on much after passing Rifugio Pian di Fontana, which was mostly downhill through a wooded area with no vistas. After dragging ourselves through the final stretch of the trail we finally reached the La Pisa bus stop and boarded a bus to Belluno. The bus ride toke around an hour to reach the town. We checked in at Hotel CasaZavi which gave us the chance to clean up before heading out for dinner. While in town I probably had the best Pizza in my life. Banged up, tired with a cold beer on the swollen knee – I regret nothing and would do it all again.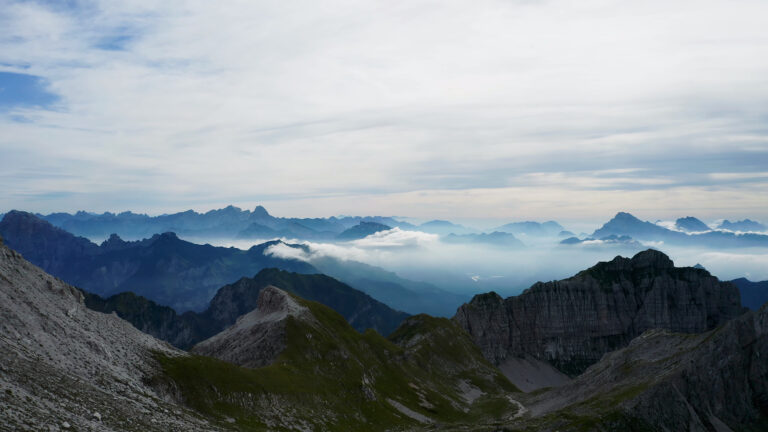 Final thoughts on the Alta Via 1
Despite the dramatic fall and banging up my knee at the end. I can wholeheartedly recommend the Alta Via 1. While it may not be the solitary hiking experience that I usually crave. It was still enjoyable, thanks to the amazing scenery along the trail and the delicious food served at the different Rifugios. Speaking of Rifugios, they were generally a joy to stay at. But if I could do it all again, I would probably add some wild camping days just to spice things up a little. I did see a couple of wild campers during this hike. But it's not something I'm recommending since wild camping isn't really allowed. I do, however, want to warn you that this is an alpine hike aka. a high route – meaning there is a lot of ups and downs. If you aren't used to hiking in places like the alps then the Alta Via 1 can be rather tough for the uninitiated. But that shouldn't stop you from doing this hike as long as you're in decent shape and take things at your own pace. 
Elevation gain:   8251m / 27070 ft
Distance:  147.8km / 91.8 miles