Welcome to the Bali travel guide!
Bali is one of the most sought out travel destinations in the world, and with good reason. There aren't many places that offer such a vast degree of activities such as the Indonesian island. From enthralling dense jungles, enchanting rice paddies, gorgeous waterfalls, high-end shopping opportunities, and an array of fantastic restaurants. Bali has everything you need for the ultimate holiday getaway.
There's a number of things to do in Bali and it can get a bit overwhelming. To help with that, I've created this Bali travel guide based on my own trip to Bali. The guide will follow my own travel itinerary. Where I hope to give you guys some inspirations for where to stay, what to do and what to eat in Bali. If you haven't already, consider checking out my video below for additional information.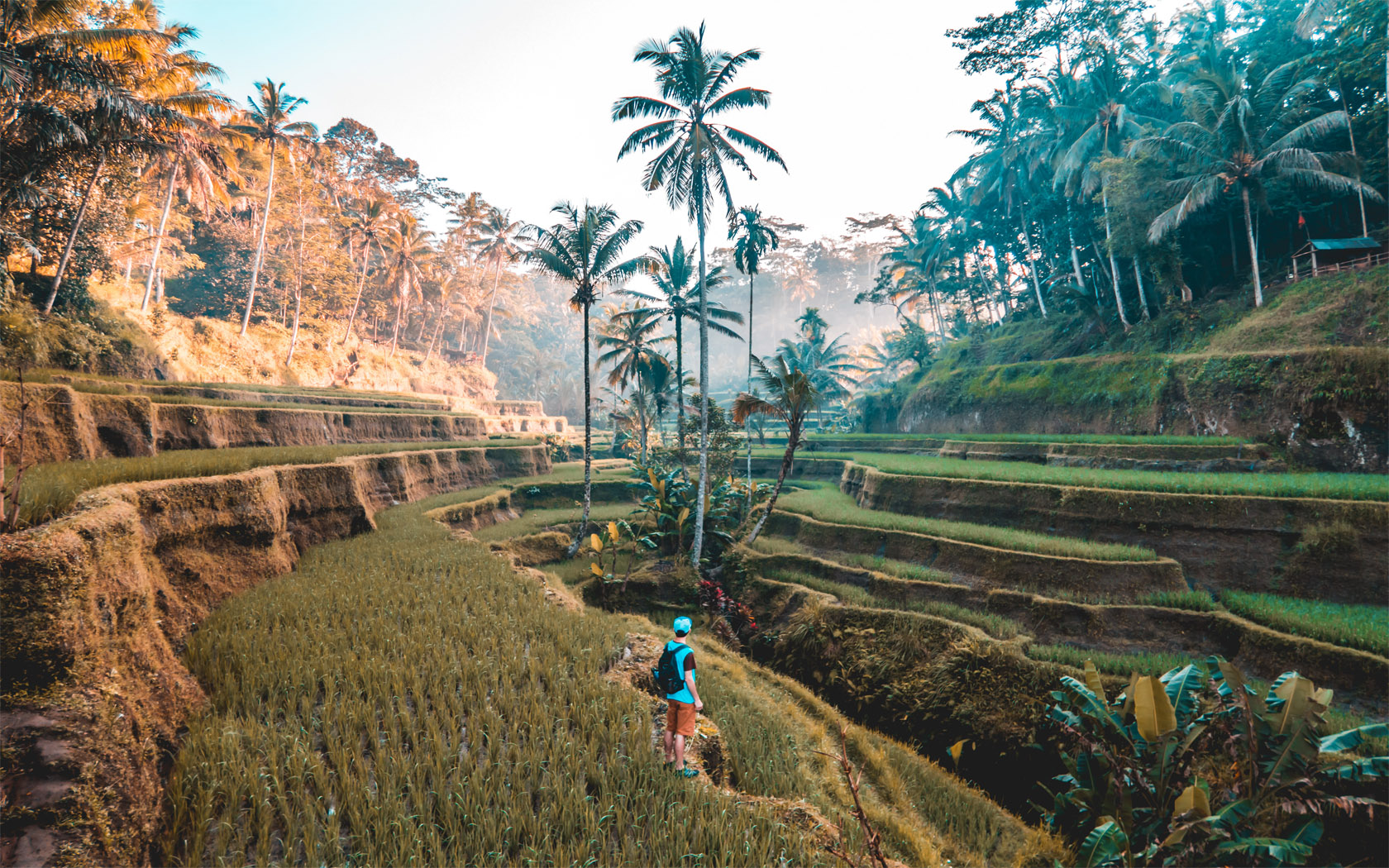 Ubud
The first destination on our Bali journey is Ubud. Ubud is considered the cultural hub of Bali, the area operates on an entirely different wavelength compared to the more touristy Kuta. The way of life here is more relaxed and there's a great emphasis on maintaining a balanced life. The town of Ubud is surrounded by greenery that seamlessly blends with the town's distinctive architecture. You'll find the air has a light fragrance of incense, due to the daily offerings and temples around the town. It's truly a unique and enchanting place – a must-visit in Bali.
It's no coincidence that Ubud is regarded as the cultural hub of Bali. The town is deeply entrenched in traditions, which are visible in the daily offerings. From the moment you step out on the street, you'll very likely encounter several small flower-like beds, laying around the streets. These flower-beds are called Canang Saris. They are the daily offerings practiced by the Balinese Hindus. The offerings are a way of showing appreciation for the peace bestowed upon the world. Due to Ubud's more spiritual and cultured feel, it's no surprise, that the town tends to attract tourists who have an affinity towards spirituality and culture. But whether you're looking to connect with your spiritual self, or just want to explore the sights of Ubud. The area of Ubud will provide you with an ample amount of activities and serves as a great starting point for your Bali adventure.
Where to Stay in Ubud
It wouldn't be a travel guide without recommendations on where to stay. Although Ubud as a town isn't very big, the town serves as a great starting point for your explorations with plenty of accommodation options. Despite the size of the town, I do recommend you to stay as centrally as possible. Doing so allows you to visit all the must-see sights with relative ease. If you plan to visit nearby landmarks and sights outside of Ubud then rent a scooter. Anyways back on topic, I've rounded three accommodation options for you to consider.
The Cheap Options: The Evitel Resort Ubud
You can't really go wrong with Evitel Resort. It's affordable, centrally located, features clean rooms and comfy beds. The Hotel pretty much has everything you need for a comfy stay in Ubud. While you might be able to find cheaper options, especially if you don't mind sleeping with 10 people in the same room. But for the rest of us, Evitel offers a good hotel experience without being spectacular. The best part of the hotel is that it only takes around 15minutes to walk to the Ubud Art Market, and only 10minutes to walk to Sacred Monkey Forest. You won't get more central than that.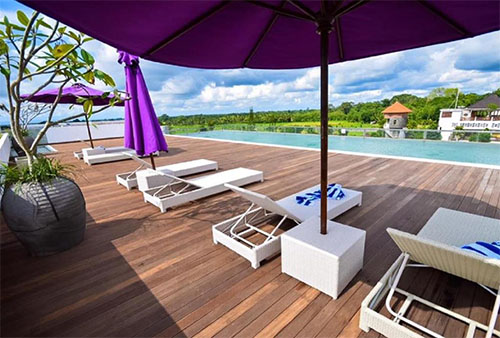 The Middle Option: Aria Villas Ubud
For those looking for a bit more privacy without spending a fortune. Arias Villa Ubud provides modern private villas with a touch of the tropics. The villas are surrounded by the beautiful Ubud nature and equipped with all the modern amenities you need. They also come with their own private pool and are only a short 10-15 minutes walk to central Ubud. A great location to stay at while you're exploring Ubud in my opinion!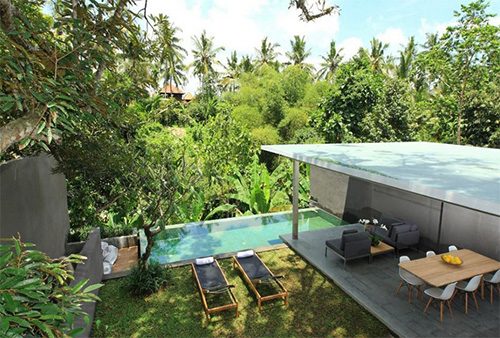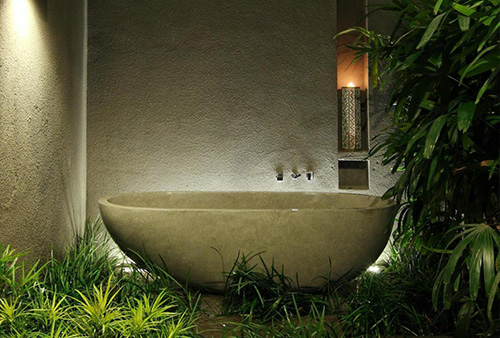 The Expensive Option: The Kayon Resort
There's honestly so many beautiful resorts and villas in Ubud. If you do a bit of research then I'm confident you'll enjoy your stay regardless of which place you choose. If I have to suggest anywhere then I'll have to highlight The Kayon Resort. The Kayon Resort is a multi-layered resort on a hillside located 10 minutes away from the town center. The resort is absolutely stunning, with its multi-layered floors and pools overlooking the lush rainforest. There aren't enough words to describe how mesmerizing this place is, so I highly suggest you check out the hotel page yourself.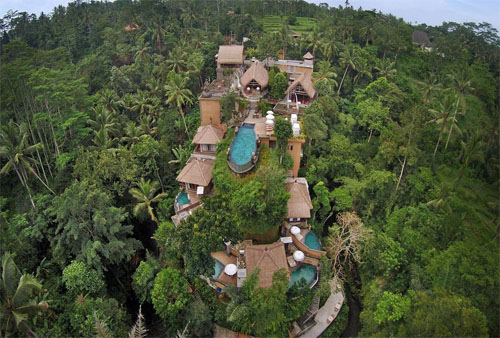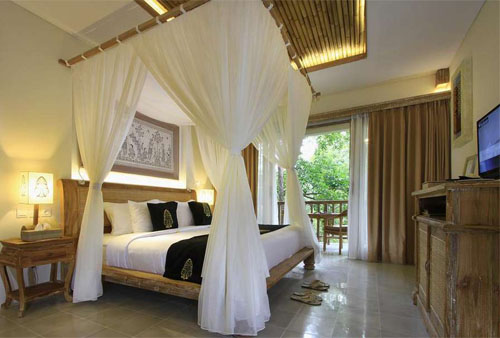 The Airbnb Option: The Hideout – Eco Bamboo Home
Want to live out your castaway fantasies? But in a lush rainforest, and with all the luxury amenities Tom Hanks was deprived of? Then look no further than this unique and secluded Airbnb called The Hideout. The accommodation is located in the area of Selat near Ubud. The Hideout is an all-bamboo constructed house, which is completely self-sustainable and has room for up to 4 guests. The place is fully equipped with everything you need, but what's truly unique about the place, is the experience you get by staying in the middle of a rainforest. You won't find many places quite like the Hideout, and it should definitely be on your list of places to stay at when in Bali.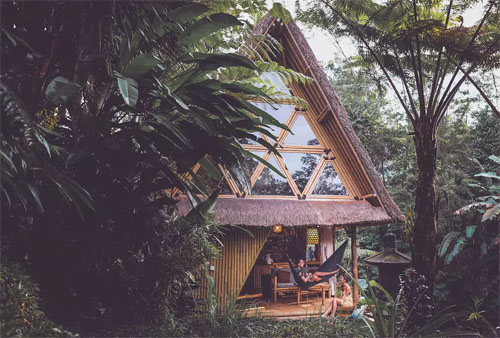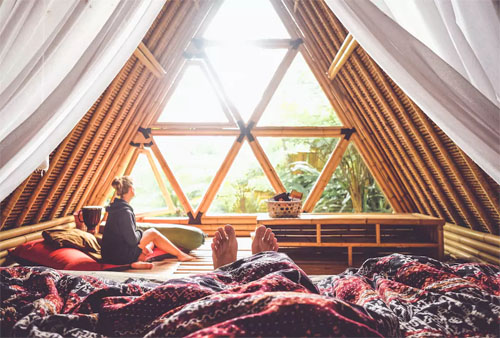 Things to do in Ubud
The Ubud Art Market: Located in the center of the town, it's a perfect place to start your exploration of Ubud. The market consists of vendors selling hand-crafted goods such as scarves, shirts, handmade bags and wooden figures. If you're looking to find some cheap souvenirs or in need of a sarong, then swing by the market.
Visit the nearby Temples: Close to the art market you'll find the Pura Taman Saraswati temple. The temple is one of several temples located throughout the town. There are also the Ubud royal palace and the Water Palace, which all acts as temples as well. I would definitely encourage you to pop into one of them and get your temple fix if you have the time to do so!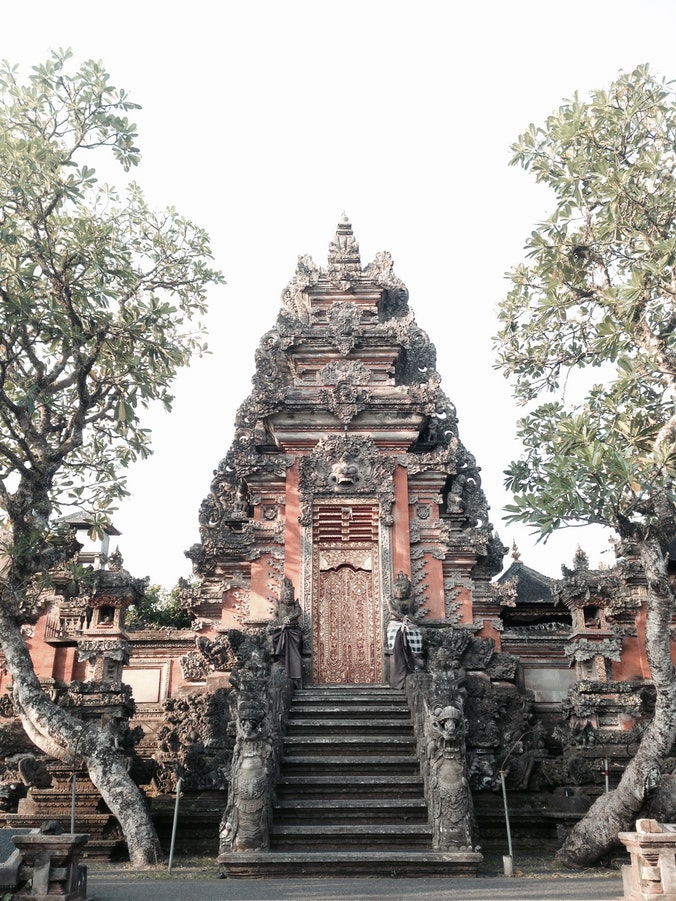 Waterfalls of Ubud: One of the great natural wonders of Bali is its multiple waterfalls. In Ubud, you can find several waterfalls such as the popular Tegenungan waterfall, Kanto Lampo waterfalls or (my personal favorite) Tibumana waterfall. Getting access to any of these waterfalls usually cost a small fee between 10-20.000 IDR. Waterfalls are like crowd magnets, so I recommend getting there as early as possible if you want the place for yourself a bit.
Meet the Mischevious Monkeys: No Ubud trip is ever complete without visiting the monkeys in the Sacred Monkey Forest. There isn't much to say about this place other than "enjoy the experience and try to follow the instructions carefully". Even though the monkeys are more used to humans than your average wild monkey. They're still wild animals and can behave unpredictably. So follow the guidelines and stay safe!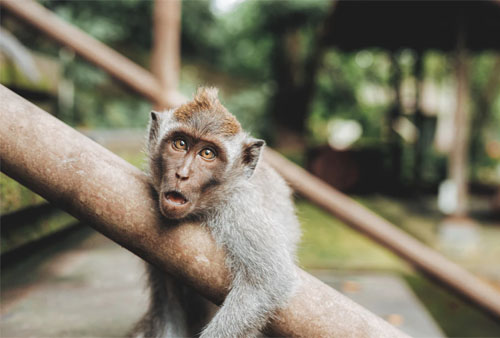 The Tegalalang Rice Terraces: You've seen the pictures haven't you? The rice terraces are probably one the most iconic locations in Bali. The terraces are located north of Ubud and reside in the district named Tegalalang. This is probably one of the must-visit sites in the area of Ubud. Once you arrive, you'll be able to walk through the rice paddies and get those Instagram worthy shots. Well worth a visit!
Poop Coffee anyone? Yes, you've probably heard about the infamous poop coffee aka. Luwak coffee. If you don't know, Luwak coffee is made from digested coffee cherries eaten by the Asian palm civet, also known as the toddy cat. The digested coffee beans are then used to produce what is known as the world's most expensive coffee. You'll be able to find a dozen of Luwak coffee plantations in Ubud. I suggest simply finding the most convenient one near you.
Places to Eat in Ubud
Despite being a small town, Ubud offers plenty of dining options ranging from gourmet restaurants to local eateries known as warungs. If you're up for exploring, try starting on the main street of Jalan Raya. The main street is filled with different dining options so just pick what seems interesting. For specific dishes to try out, I would suggest ordering local delicacy known as "the suckling pig"! If you want specific recommendations for restaurants, I suggest the following:
Swept Away at The Samaya Ubud: The swept away restaurant is probably one of the most scenic restaurants I've ever frequented and serves modern takes on Indonesian cuisine. But what's really unique about this place is its enchanting atmosphere. The restaurant features an outdoor deck, just a stone's throw away from the nearby river, making it the perfect spot for a romantic dinner. No wonder the place is often booked for anniversary dinners and that likes.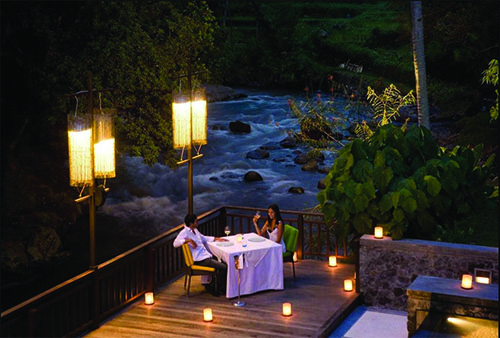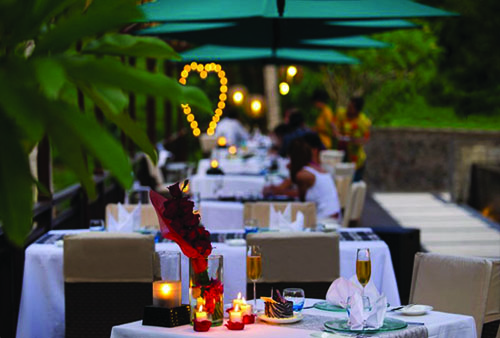 Restaurant Locavore: Locavore caters towards the more gourmet interested crowd while remaining humble and casual in their approach. The restaurant serves beautifully designed courses inspired by the local ingredients found in Indonesia. In fact, over 95% of the kitchen's ingredients are Indonesian and the restaurant has dedicated itself to work with local farmers while supporting a more sustainable future for its community. So if you're looking for a fine dining option rooted in the Indonesian cuisine then pay Locavore a visit.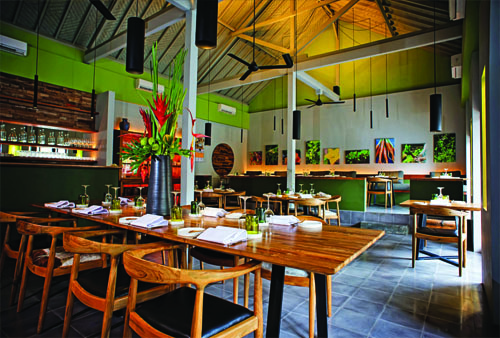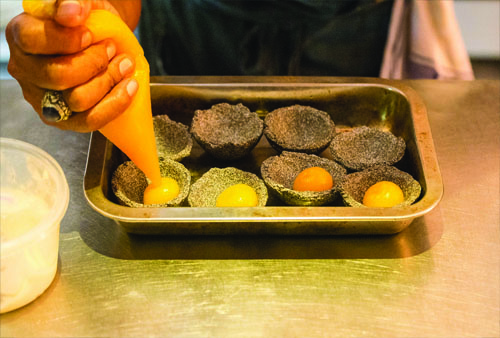 Melting Wok Warung: If you're looking for an affordable dining option then Melting Wok Warung might just be the place. The place serves your simple yet delicious Indonesian dishes. You can find dishes such as curry rice with all sorts of meats to your papaya salads. A traveler favorite for some simple and cheap food in Ubud.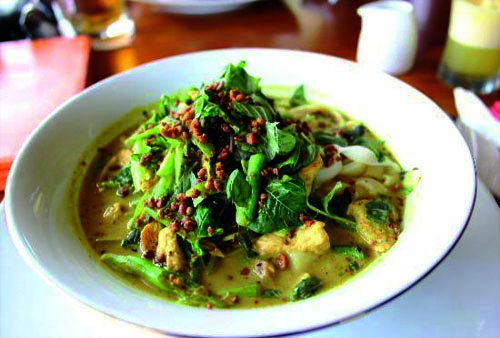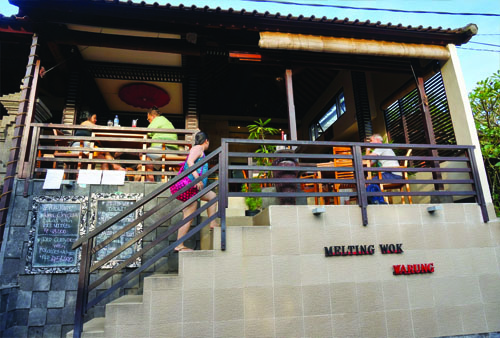 Regardless of which places you choose, I will definitely recommend you to taste the local cuisines rather than going the safe route of hamburgers and fries. There is no point in traveling to foreign destinations without diving into its culture. For me, food is an essential part of any culture and isn't that what traveling is all about? Trying something new and exploring a country's culture? I sure think so. Besides, I can't think of any better way of experiencing a country's culture than by eating your way through it.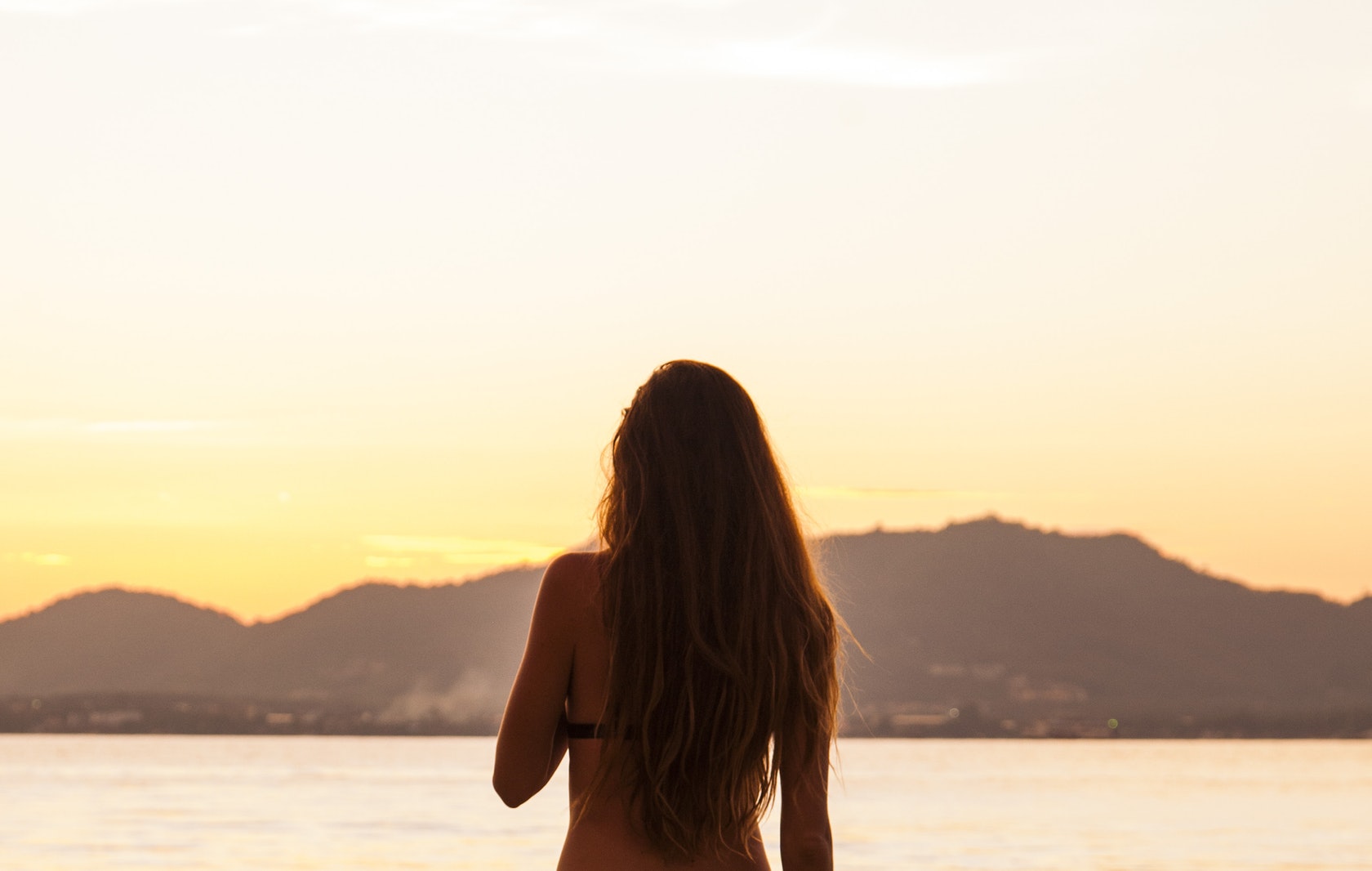 The Gili Islands – Gili Trawangan
The Gili islands aren't technically located in Bali, but I thought they were close enough for you to consider visiting. The islands are located northeast of Bali and are much closer to the neighboring island of Lombok. The Gili islands consist of three main islands. First, Gili Trawangan is the largest of the three and also the most crowded due to its party scene. Gili Air has a more minimalistic feel. It's less crowded, making it the perfect place for a more relaxed stay. The final island of Gili Meno is sandwiched between Gili Trawangan and Gili Air. The island is the least popular of the three but offers an experience similar to Gili Air and is largely undeveloped. For the purpose of this Bali Travel Guide, I will mainly focus on Gili Trawangan (Gili T) as that's where I stayed during my trip. Nevertheless, activities are similar across the three islands and you can easily visit either of them via a short boat ride.

Where to Stay in Gili T
The Cheap Option: Les Villas Ottalia
Although Les Villas Ottalia is labeled under the cheap option, don't be fooled. The actual amount of value you are getting for your money is crazy. Les Villas Ottalia is nestled in the middle of the island surrounded by coconut plantations. It only takes 7minutes on foot to go to the beach in either direction. The resort provides an ideal accommodation for your Gili Trawangan holiday at a very affordable price without feeling like your skimping out on anything. You can book an affordable private bungalow for your stay, but I would rather recommend getting your hands on a private villa. For a minimal price jump, you'll get your own small villa with its own private pool. For larger crowds, you can even book larger villas which can accompany up to 4 guests. Oh, and did I mention the villas are absolutely gorgeous in a rustic island kind of way.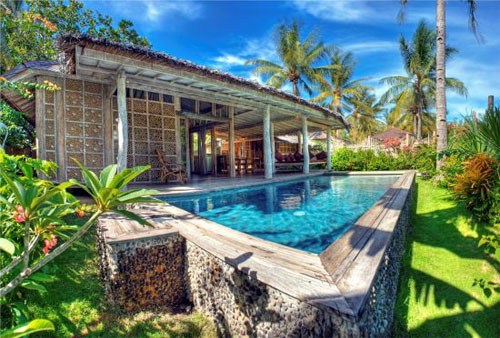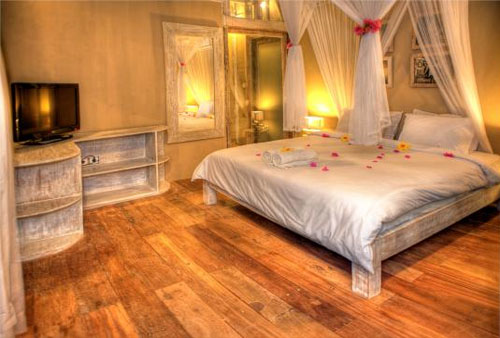 The Middle Option: La Cocoteraie Ecolodge
If being eco-friendly is your thing while still enjoying a unique and modern accommodation, then you might want to consider La Cocoteraeie Ecolodge. For people looking for a glamping experience, La Cocoteraie offers air-conditioned units with a private terrace overlooking the garden area. Every unit is equipped with hot and cold shower facilities, private bathroom and mosquito nets. A unique place that's well worth experiencing in Gili T.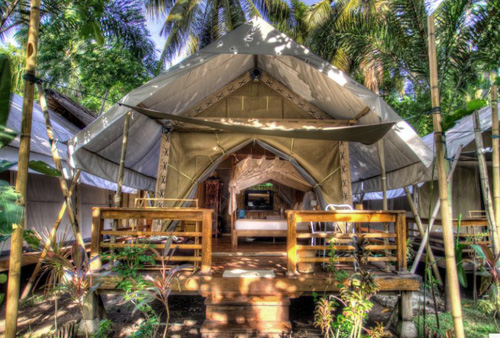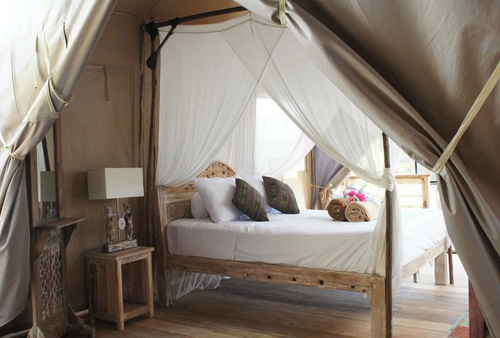 The Expensive Option: Le Pirate Beach Club
There are far pricier and more luxurious options on Gili T, but when I think back on my time on the island, no place is more iconic than Le Pirate Beach Club. Easily distinguishable by its white and turquoise colored beach huts, Le Pirate offers a simple yet well-serviced resort. You've probably already seen Instagram images of this place and I promise it looks even better in real life. But the main reason to seek out this accommodation is due to the people it attracts. In Le Pirate, you will find like-minded travelers and nomads seeking the ultimate island experience. With its vibrant bar serving as a good starting point for a night out, don't be surprised if you find yourself swept away by your fellow neighbors on your march towards the next waterhole to plunder.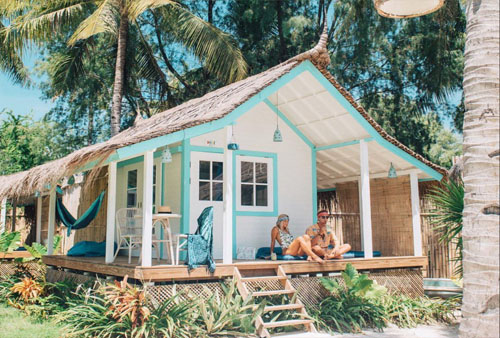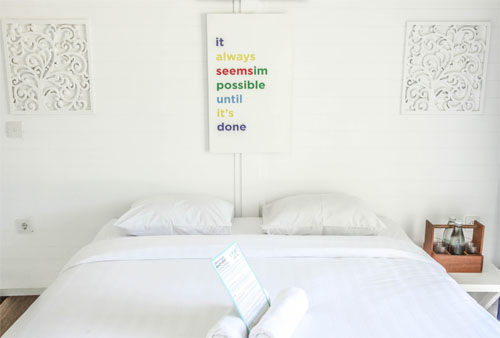 The Airbnb Option: The Gili Beach Resort Villa
I can't really end this section without a proper Airbnb option for you all. I decided to highlight this amazing Gili Beach Resort Villa located in the northern part of Gili T. With a capacity of up towards 8 guests the villa comes with 4b bedrooms, 4 bathrooms, and a private pool. In addition, there are complimentary breakfast, bikes and snorkeling equipment for you to use. In addition, the villa is located right in front of the beach which is perfect for a little morning dip before grabbing some breakfast. Honestly, if you're a group coming to Gili T then you won't go wrong with a place such as this.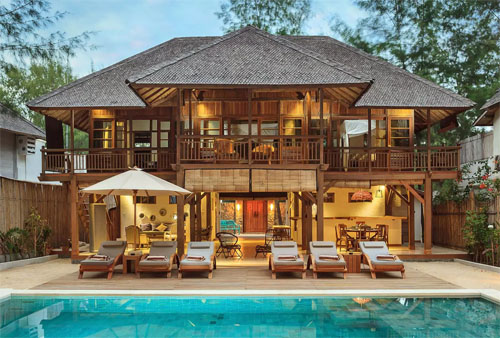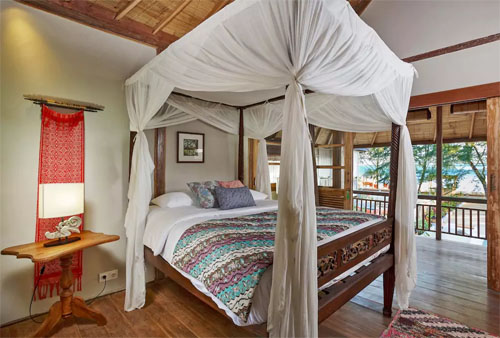 Things to do in Gili T
Enjoy the Beach Life: Seriously, do I even have to mention this? You are on a freaking island surrounded by white sandy beaches and some of the bluest water you can find on this planet. So grab a towel, bring your sunscreen and hit the beaches immediately.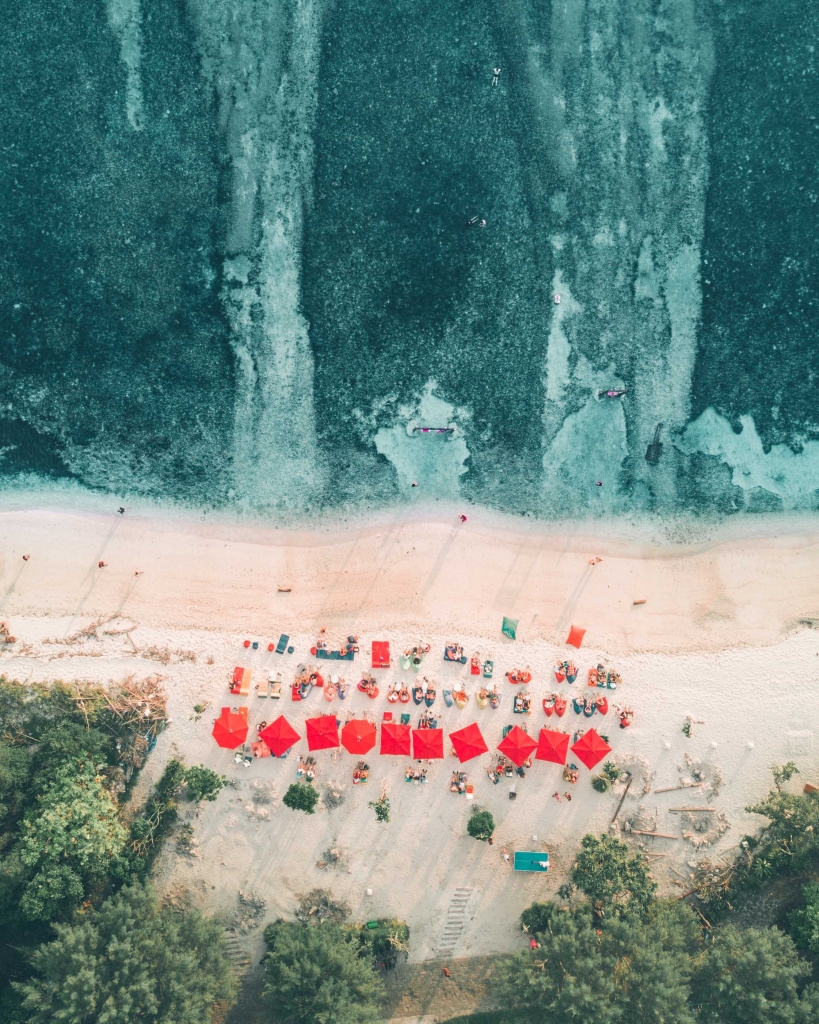 Bike Around the Island: There are no cars on the islands, so your only means of transportations are either via Tuk Tuks or bikes. Bikes are by far the more affordable option and you can rent one for multiple days. You can rent a bike pretty much anywhere and it shouldn't cost more than 10.000 IDR per day. You can bike around the entire island in under 2 hours and even less if you decide to cut across the island. Nevertheless, it's just amazing how you can sit and have dinner on one side of the island and then bike across to the other, just in time to see the impending sunset. Save time and rent a bike! You can thank me later.
Feasting at the Night Market: If you decide to stay on Gili T then you can't miss the daily night market. Every day from 7 pm the locals roll in their food carts with freshly caught seafood and homemade dishes. Top that off with a cold Bintang and you're in for a good night.
Cocktails and Sunsets: To be honest, there aren't many things in life that makes you sit and appreciate life more than sitting on a beach with a cocktail in your hand, all while admiring the sunset. The cool thing about staying on the Gili islands is that you can do it every single day and there's nothing stopping you from doing it. Pure bliss!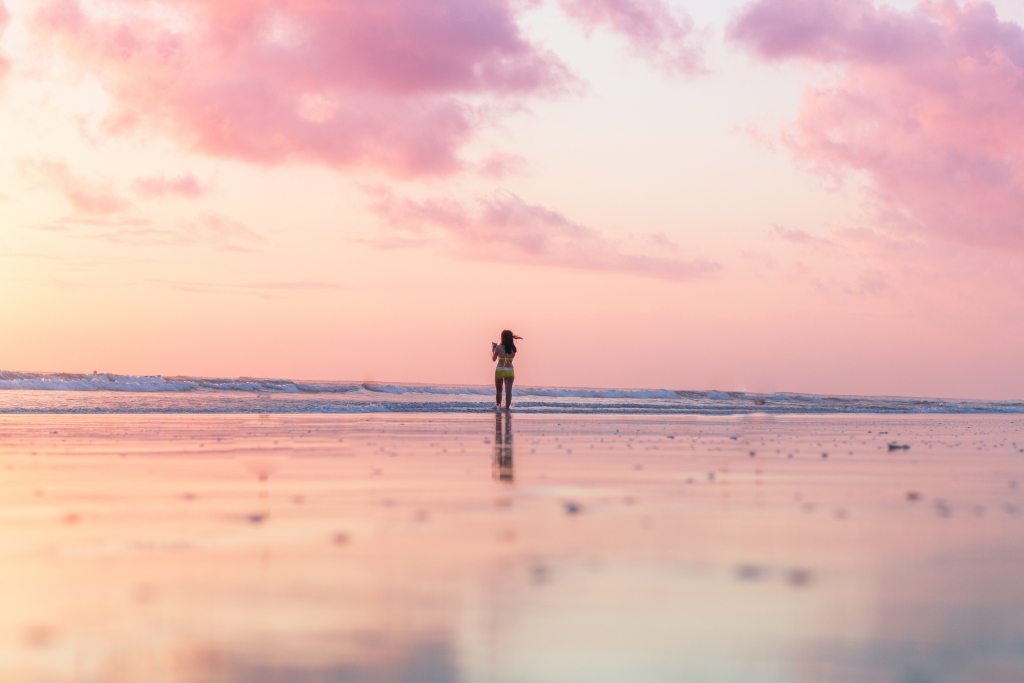 Party like an islander: As with any popular island destination, for some people, the island really comes to life when nightfall arrives. Gili Trawangan is no different. The island is full of bars and clubs playing the latest Spotify top 50 list, pouring barely mixed drinks down the throats of happily eager tourists. But you don't necessarily have to wait around for nightfall to start the partying. The island offers day excursions on designated party boats, where you can drink, swim and dance your worries away. Needless to say, if you're interested in having a good time then Gili Trawangan would be your island of choice.

Places to Eat in Gili T
You're on a small island so I wouldn't expect too much in terms of high-end food options. With that said, there are still some decent places to try out while you are here. One place particular would be the Night Market. Although you may not find an award-winning 7-course dinner there, you get to taste real homemade local dishes and mingle with the other islanders. The market is full of life making it a great warmup spot before hitting the nearby bars. There are also plenty of fast food places such as Le Petit Grill for their take on the classic cheeseburger and Pizzeria Regina which arguably serves the best pizzas on the island. Other places worth mentioning would be Gili Teka beach club for some grilled food and Scallyways Seafood which serves (you guessed it) all sorts of seafood dishes. There are plenty of other places to stuff your face but I won't mention them all here. In the end, just don't expect high-end dining experiences and you should be good to go.
Places mentioned:
Pizzeria Regina
Le Petit Gili
Gili Trawangan Night Market
Scallywags Seafood Bar & Grill
Gili Teak Beach Club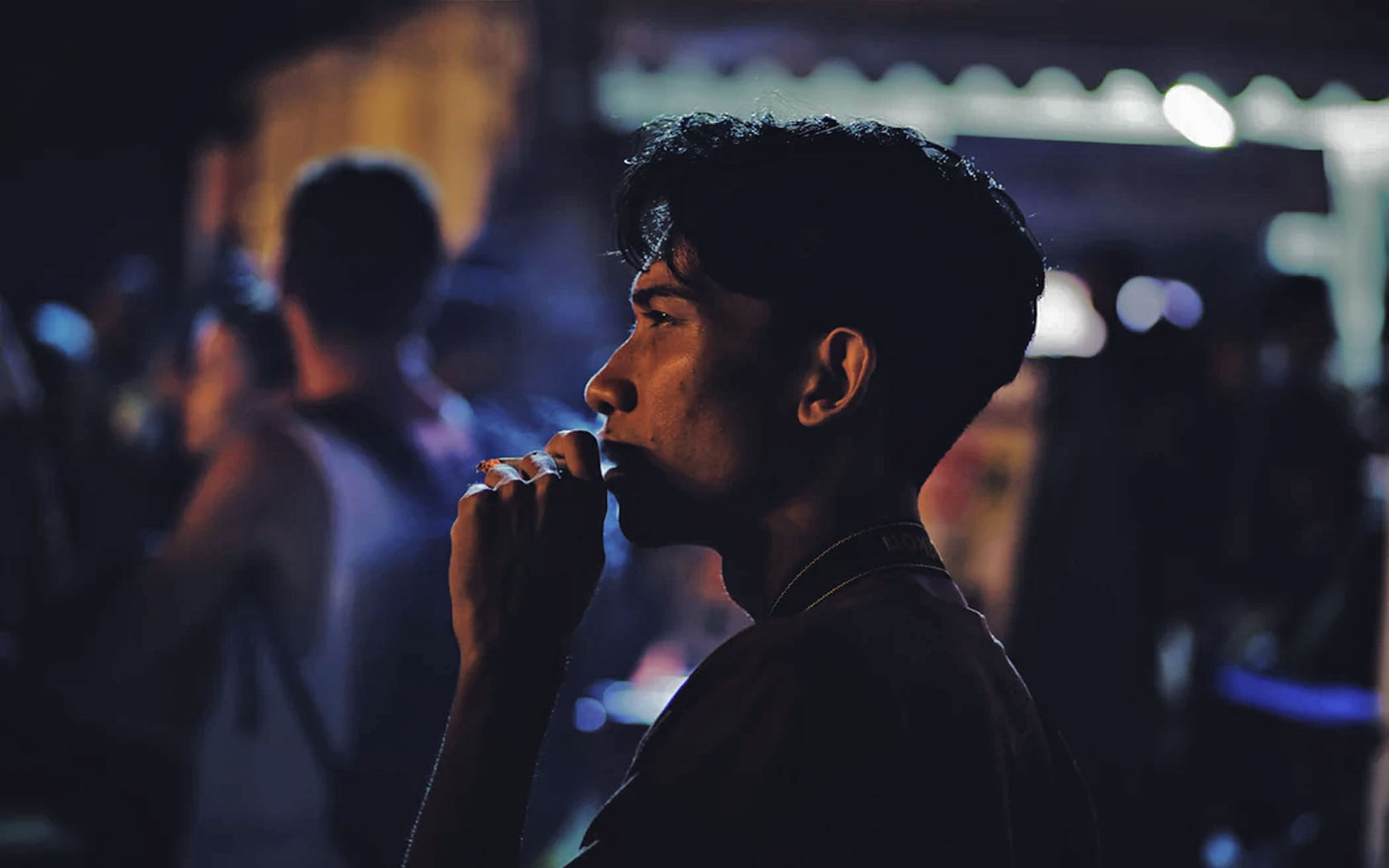 Seminyak
Seminyak is known for being the stylish and upscale area of Bali. Seminyak is filled with luxury hotels and villas, high-end shopping spots, gourmet restaurants and an upscale nightlife. The district offers the traditional tourist experience, where everything you need and want is just a simple credit-card swipe away. The area offers a side to Bali which is the complete opposite of the humble and cultured town of Ubud. Everything here is set at a frantic pace. Everyone is hustling to make a living off the immense tourist wave hitting the island, which is understandable as tourism plays a big part in the economy of Bali.
Now it may sound like I'm painting a slightly negative image of Seminyak, compared to other parts of the island, but that isn't my intent at all. Seminyak is no different from any popular travel destination, which takes advantage of the high influx of tourists. But it's hard not to notice the stark contrast between the developed area of Seminyak and the less-developed regions of Ubud or Canggu. Nevertheless, from a tourist's perspective, it can be seen as a positive. As the variety of activities and areas you can explore in Bali is vast. The island should, therefore, be able to cater to any type of traveler, whether you're a simple backpacker or someone who wants the finer things in life.

Where to Stay in Seminyak
The Cheap Option: The Haven Bali
I always recommend The Haven for people looking for a great deal. The hotel is centrally located in Seminyak and is quite modern. The hotel offers several amenities such as a fitness room, a restaurant and bar, and even parking spaces for your scooter. You are also able to upgrade to one of their Haven villas, where you get your own private pool which I highly recommend. All in all, a very affordable and value-for-money hotel.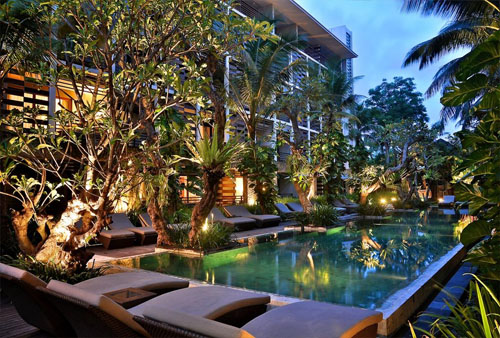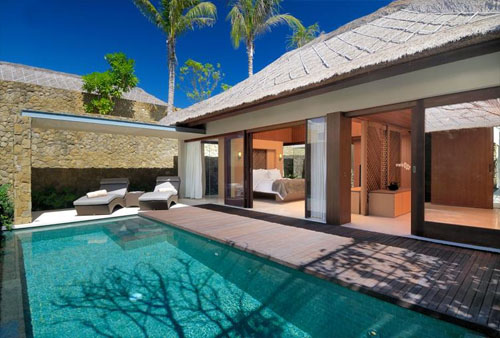 The Middle Option: Samaja Villas
If private pools, 24hour staff and a short drive to Seminyak Square sound good to you, then consider Samaja Villas for your stay in Seminyak. This place is literally a steal for the price you're paying. It's no coincidence it's voted as the best value villa in Seminyak on Booking.com. So if you want to enjoy the good life without emptying your bank account for it, then I can't recommend this place enough.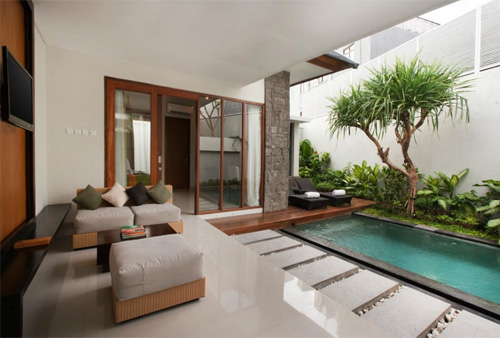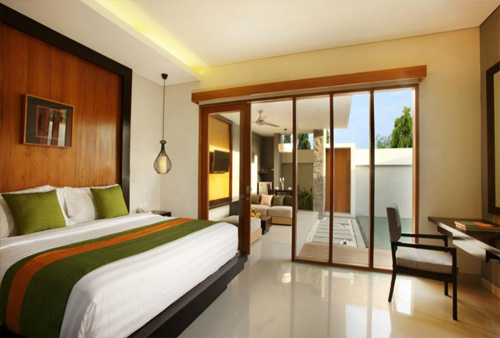 The Expensive Option: W Bali
Yet again, we run into a situation where there are far too many good options. While the differences are so minuscule that it's hard to distinguish a clear winner. It, therefore, all comes down to personal taste or prior experience with an accommodation. For me, if I had the money to spend on a luxury accommodation then it would have to be the W Bali. The W Bali is a five-star resort and is one of the most beautiful upscale hotels you can find in Seminyak. Besides its endless list of amenities, you can also find arguably one of the best restaurants in Seminyak located right inside the hotel. They offer regular rooms and suites but I would recommend booking the villa option, as that comes with its own private pool. It's almost a standard to have a private pool when you're in Bali, so why go against the trend.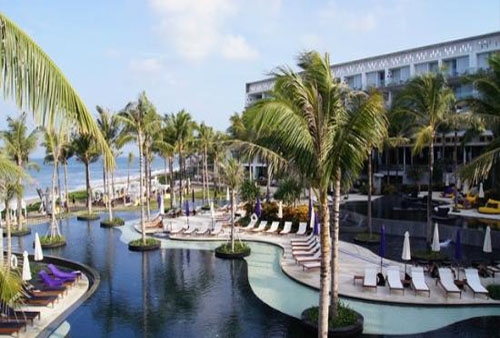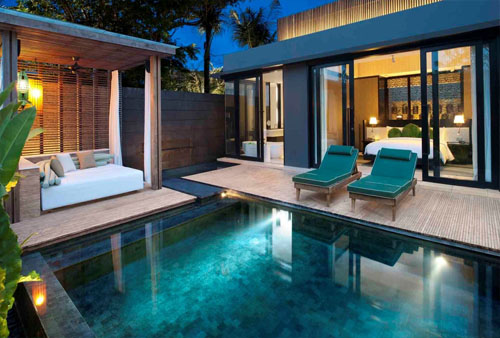 The Airbnb Option: Villa Dua in Nest Villas
Well, we might as well go all in when we're here. Have you always wanted to live in a massive private villa with your own gigantic private pool? Or perhaps you want to find a villa which impresses all your friends? Then you might as well consider Villa Dua. This Villa just oozes class and style when you first enter its doors. It comes with two bedrooms, two bathrooms, one massive pool and the place also provides anything from private cooks, transportation, babysitting, spa and scooters for rent. The villa is also close to popular spots such as Ku De Ta, Potato Head Beach Club, and Mamasan. The place is ideal for a group of friends looking to experience the good life in Bali without feeling like you spent a year's worth of income. There's really no need for me to sell this villa any further just check out the pictures below.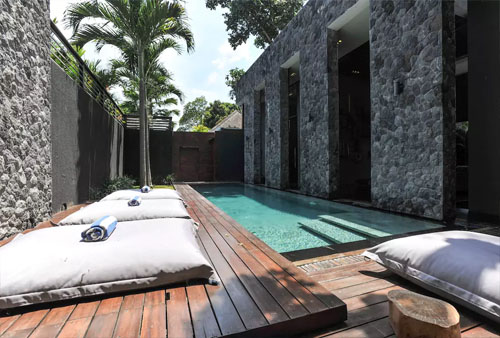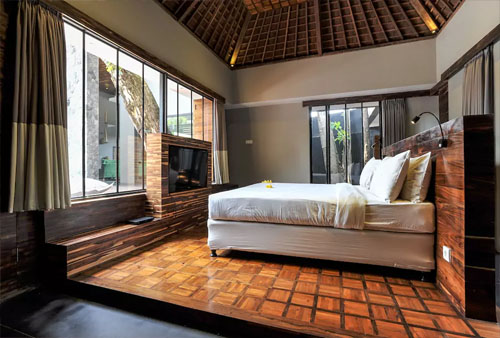 Things to do in Seminyak
Lounging in a Beach Club: If you decide to stay in Seminyak then you absolutely need to swing by Potato Head Beach Club. The beach club is home to two restaurants, three bars, an infinity pool, and a massive 500 square meter lawn looking over the Indian ocean. Designed to mimic an amphitheater structure you can lie around in one the day beds while the bartender conjures up some of the best cocktails in the area. Be warned, the place fills up very quickly so if you want a day bed you need to get here before they open at 11 am, as people start to queue 15 minutes before they open their doors.
Shop till you drop: If you've been waiting for a proper shopping spree then Seminyak is the right place for it. The area is filled with high-end shopping opportunities and upcoming local brands worth checking out. Head over to Seminyak Square and visit the modern Seminyak Village shopping mall or walk down the main shopping street of Jalan Raya Seminyak. If you aren't afraid of going south a bit, then grab a taxi and head over to the Beachwalk Shopping Center in Kuta for more shopping opportunities.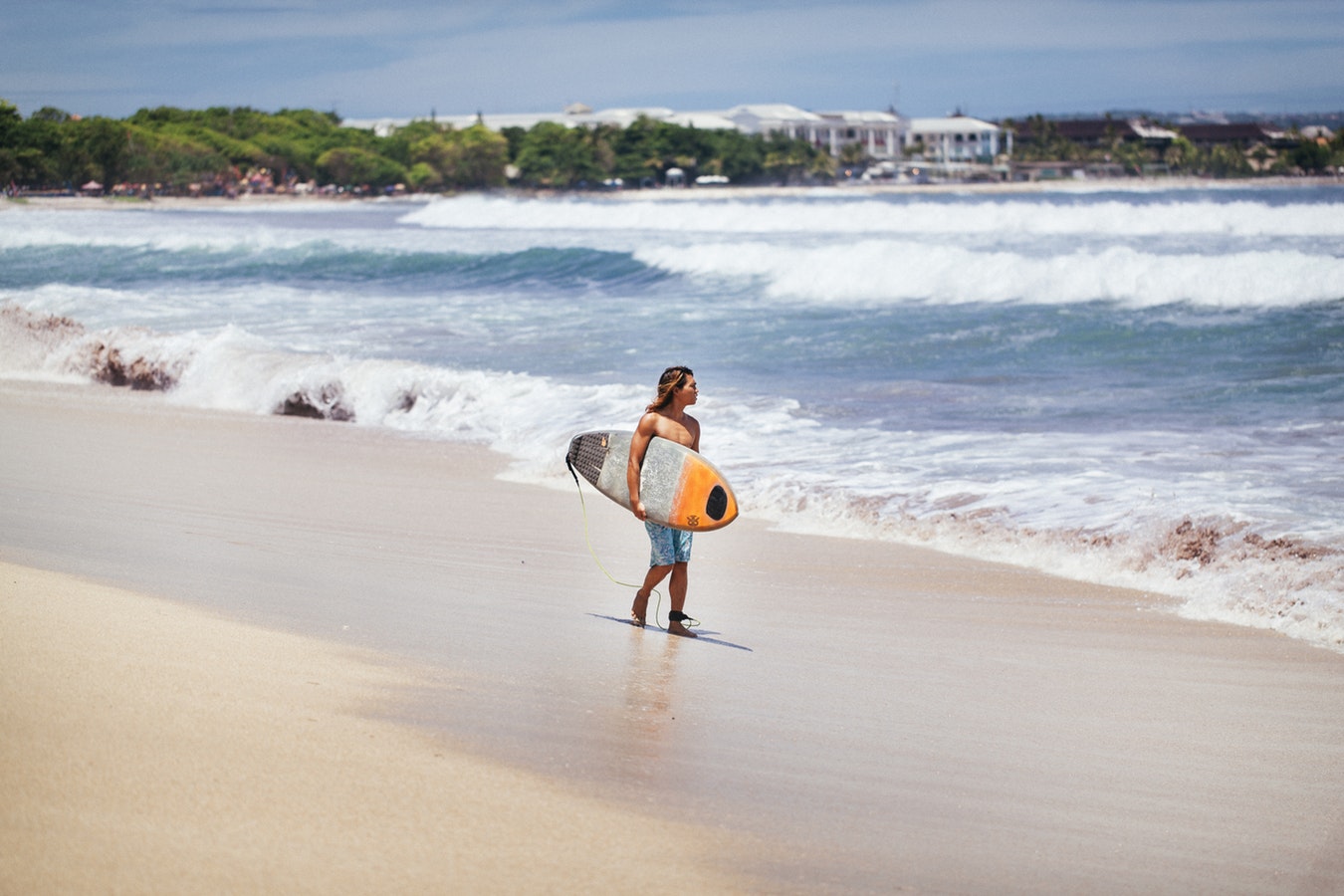 Learn to surf: Haven't tried to surf in Bali yet? What are you waiting for?! Go down to either the busy Kuta Beach or more relaxed Seminyak beach, rent a surfboard and hit the waves! If you've never surfed before then don't worry, you can easily pay for some quick surfing lessons by the local surfing instructors at Kuta beach.
Fulfill all your culinary desires: If you've been craving for some culinary delights then you'll be happy to know that Seminyak offers some of the best restaurants on the entire island. Now I won't go much into detail in regards to specific places as I'll talk more about that in the next section. But rest assured that you'll be able to fulfill all your culinary needs in Seminyak.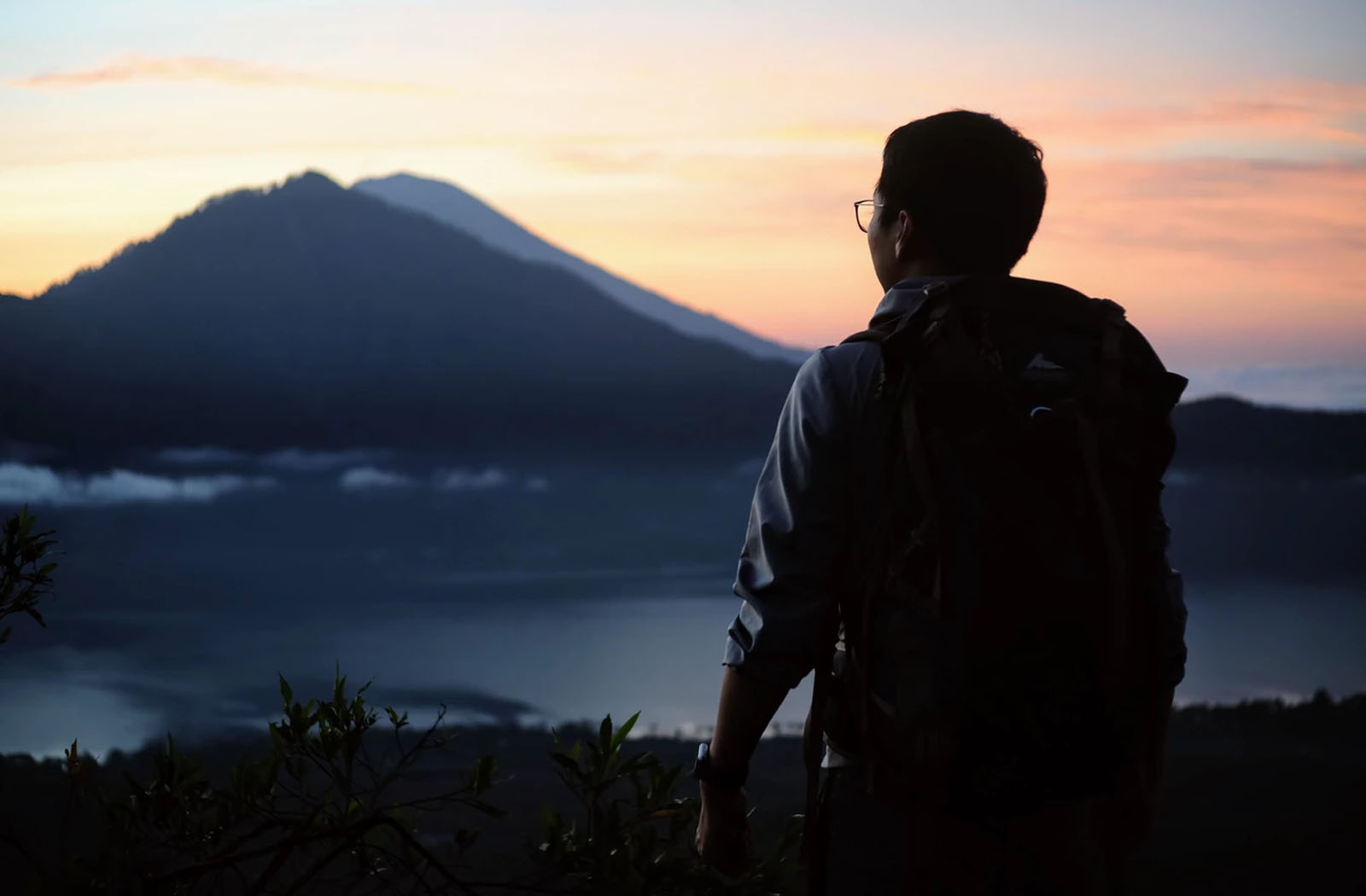 Book some day tours: Now although Seminyak has plenty of offerings, you should consider booking a day tour or two while you are here. Seminyak doesn't have much of landmarks to visit, so a lot of travelers end up booking a private day tour to explore other areas of Bali. Alternatively, you can also just go on a solo exploration trip on a rented scooter. If you decide to book a tour or simply do your own explorations consider either the Northen side of Bali or Southern Kuta. I can also recommend embarking on the famous Mount Batur hike even though it's super touristy.
Enjoy the vibrant nightlife: One of the main attractions of Seminyak is its upscale nightlife. There are so many stylish bars and clubs spread across the area that you'll be occupied by partying for weeks. If you plan on visiting an upscale club then consider Ku De Ta, for a more beachy vibe and open-air feel visit the aforementioned Potato Head Beach Club. There are plenty of venues to choose from depending on your taste, so strap yourself in for a good night out and join in on the fun.

Places to Eat in Seminyak
When I arrived in Seminyak I literally felt I was in food heaven. The area is filled to the brim with great eateries that I wish we had back home in my country. Whether you just want a non-fancy lunch or a gourmet dining experience, you will find several options and believe me, more options are a good thing! I listed a few places you should consider checking out:
Sisterfields cafe – for your daily lunch spot with the gang
Mamasan – The best of South East Asian cuisine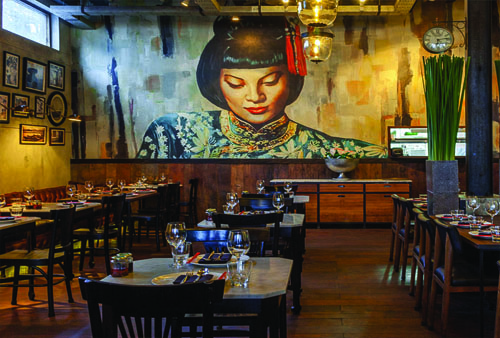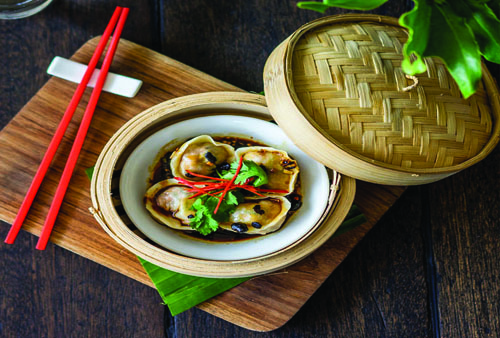 Bikini – A sophisticated, cool and stylish dining experience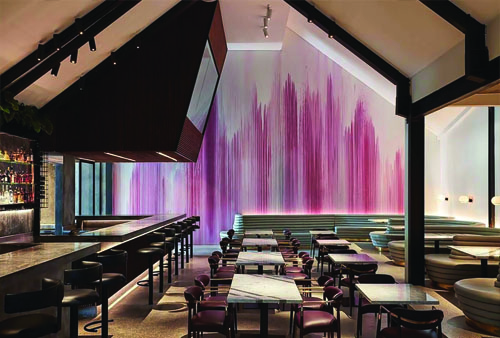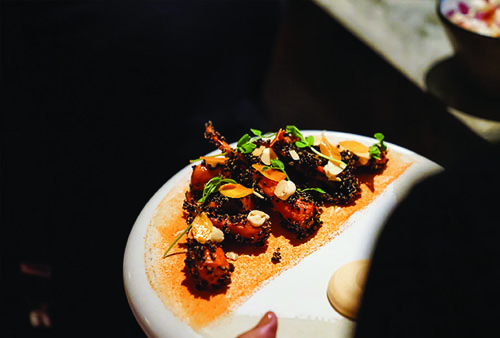 Now, this only grazes the sheer amount of great places to dine in Seminyak. But for me, these are the quintessential places to visit in Bali. Feel free to explore on your own and let me know if you find other tasty places!
Closing Words
Alright, I hope this Bali Travel Guide gave you some good ideas on what to do in Bali. It's never quite easy to try and boil down everything there is to Bali in a simple travel guide. But I believe that this guide at least provides some food for thought on what to see, what to do and what to eat in Bali. I highly recommend people to stay or at the very least visit different regions of Bali. You will experience so much more of the island doing and have a more holistic impression of what Bali is all about. Anyways, I hope you found the guide helpful. If you have any questions than leave them in the comments below. Enjoy your travels and remember to bring lots of sunscreen!
[Featured pictures and Icons supplied by Unsplash.com and Vecteezy.com]